On Friday, in a pre-season game against the Minnesota Wild, Oiler Taylor Fedun suffered a career threatening injury going in for the puck to touch up for icing. Fedun broke his femur, a bone that's stronger than concrete. He was having a fantastic pre-season up to that point, making a bid for the 7th defenseman spot. Instead, he will now have to go through over a year of healing and rehab. Here is the play that did all the damage: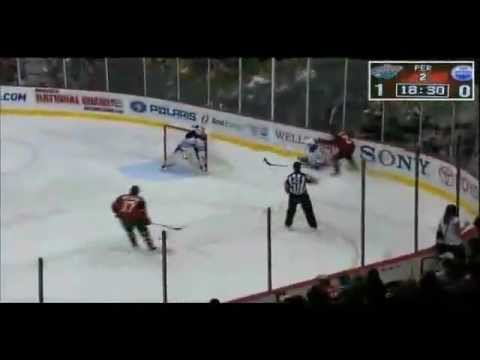 People have said that this is a suspendable offense, but I can't see how. Eric Nystrom was going for the puck, and Fedun slipped on his stick. He was doing his job and can't be blamed for it. He went for the puck, a play he is very much allowed to make. Unlike other incidents of the same magnitude, nobody was shoved into the boards. This is a terrible play to see in hockey, but it is not dirty.
Suspending Nystrom won't help any cause in any way. Again, it wasn't his fault and he has already stated he feels terrible about the incident. He told the Globe and Mail,
"I feel awful," Nystrom said. "He was really hurt and I had obviously no intention of ever, ever doing anything like that. I was just racing for an icing and that's one of those freak things that happens in those situations and it's why people always say that rule (should be changed to no-touch icing). If I didn't think I had a legit chance at the puck I would have never raced in there but I just thought I had a good jump and I could maybe get in there… I feel terrible. So bad right now."
Nystrom is right, along with the entire squad of Oilers. No-touch icing needs to be implemented. The players want it, and the players need it to prevent plays like this. There shouldn't be any argument against it, and if you have one I would love to hear it in the comment section below.