As stated previously, Matt Hendricks has one of the most unique player types in the NHL. He is shootout specialist and tough guy. His work on the ice earned a deserved extension, but where he fits in the Caps' lineup at this point in time is still unknown. Whether it's the third line or the fourth line, Matt Hendricks is good to go. The stats and film will tell the story today.
Last season, his first full campaign in the NHL, he had 25 points on nine goals and 16 assists. He also had 110 penalty minutes. Washington is what some might call a new-age team. From a philosophical standpoint, they don't really believe in employing a tough guy. They are one of the teams not necessarily trying to remove that player type but not willing to sacrifice skill on the ice. Sure they gave away nothing for D.J King and used to have MMA fighter Donald Brashear, but if you look at where the Caps are now, they aren't sacrificing skill anywhere in the line up for toughness. Where does Matt Hendricks fit in? Everywhere!
GMGM (General Manager George McPhee) saw something in Hendricks and was right. He can play Capital hockey and still protect his teammates if it must be done. He's willing, which is what you need. Check out this fight. Exactly the type of team you need a good fight against sometimes.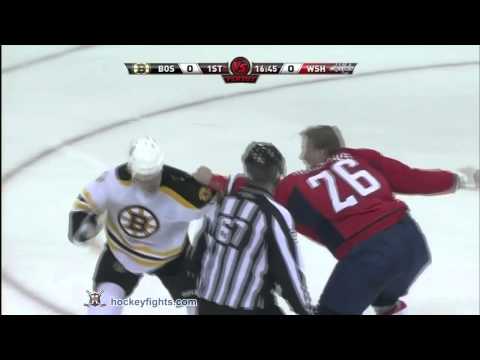 FInally let's look at Hendricks' shootout skill. When Alex Ovechkin, Nick Backstrom and Alexander Semin are on your team it's hard to crack the primary shooter rotation. Matt Hendricks can win a game after those three don't, putting the puck in the net with surprising consistency. This is important in the modern NHL era. Shootout wins determine playoff positioning in many situations. While the league tries to prevent this, the overall standings are unquestionably affected by shootouts.
To the eye, Matt Hendricks has a lot of poise in the shootout. Poise is probably the most important attribute in that situation. One on One with the goalie is just about the easiest way for a player to score. If not flying down the ice too fast, a player can deke and change angles many times throughout the course of an attempt. Check this move.
http://www.youtube.com/watch?v=AH-sZqkCz50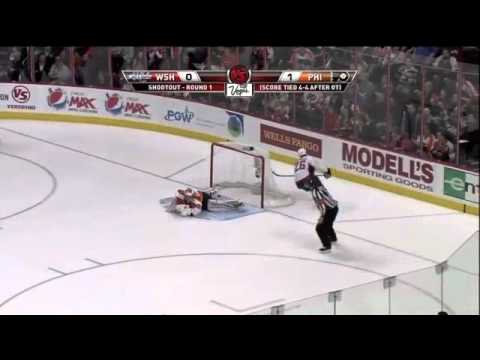 RSS and share this blog for more insight on the Washington Capitals.