Hershey's home woes continued Friday night, falling to St. John's IceCaps 3-1. The Bears fell to 9-13-2-1 at their home rink, a far cry from their 11-6 record on the road. Ben Maxwell tallied the game winning goal for the IceCaps, in a closely contested matchup. St. John's goalie Eddie Pasquale earned his 12th win of the season in goal for the IceCaps, padding aside 26 of Hershey's 27 shots on goal.
"I don't understand why work ethic and emotion should ever be a problem," Hershey coach Mark French said. "Clearly they [St. John's] were the more urgent team than us early and I guess probably late as well."
Two quality goalies battled at Giant Center, with Eddie Pasquale (11-15-2, 2.61 goals against average, .915 save percentage and three shutouts) was in net for St John's. Hershey goalie and Capitals prospect Philipp Grubauer (2-2, 2.05 goals against average and .926 save percentage) got the nod for the Bears.
The first stanza was dominated by St. John's, outshooting the Bears 15-7. Grubauer played phenomenal in goal for Hershey, making some key stops during the IceCaps power play. St. John's couldn't beat Grubauer on their first power play, and had 54 seconds of time on the man advantage carry over to the second period.
The second frame featured a battle of special teams, with both clubs tallying power play goals. IceCaps forward Patrice Cormier registered his second goal of the season, beating Grubauer through a screen on the man advantage. Hershey battled right back up a skater, as recently named AHL all-star forward Jeff Taffe fed Jon DiSalvatore in front for his 12th goal of the year.
St. John's regained a 2-1 lead 16:47 into the second, capitalizing on a Hershey defensive zone turnover. IceCaps forward Ben Maxwell converted on the turnover for his third goal on the season. Before the goal, Garrett Mitchell dropped the gloves with IceCaps defenseman Julian Melchiori, looking to change momentum, but it went in St. John's favor.
"It wasn't bad luck," said French of St. John's goal following Garrett Mitchell's fight. "We seemed to gain a little bit of emotion from that. They had their moment after that and they were able to counter-punch, that's going to happen, but there wasn't much life to us past that. They responded and then we needed to respond again. It was just too short lived."
Grubauer kept Hershey in the game, recording 25 saves on 27 IceCaps shots.
"I think it was a tough start for us," said Grubauer. "It was a pretty tough game for us, but I tried to give the guys a chance to win it."
The second stanza was well played by both teams as each registered a power play tally and recorded six shots on goal.
Hershey struggled offensively in the third period, failing to beat Pasquale. St. John's forward Raymond Sawada added an empty net goal in the final minute to wrap up the IceCaps road victory.
"We need to be a lot more tenacious around the net," French said. "We don't want to feel like if a team scores two goals, [we] might as well pack her in boys it's the end of the night. Too often that's occurred."
With another failure to score in the third period down a goal, Hershey fell to 0-15 when trailing after two periods.
"I told the guys I'm sick and tired of walking back in the dressing room and hearing their guys announced for stars in home buildings," said French. "When we go on the road we could play a hell of a hockey game and we're lucky if we get a star. It's pretty indicative of how our play has been at home, where we're hard pressed other than probably our goalie most nights at home at getting a star. It's embarrassing."
"It's not my job to be concerned with that quite frankly," said French of getting players to come up big. "There's guys in my dressing room that are allotted to me, I'm not in charge of changing the personnel. My job is to coach the personnel and squeeze everything out of it and tonight that certainly didn't happen."
Hershey travels to Binghamton for a matchup against the Senators on Saturday night, followed by AHL all-star weekend.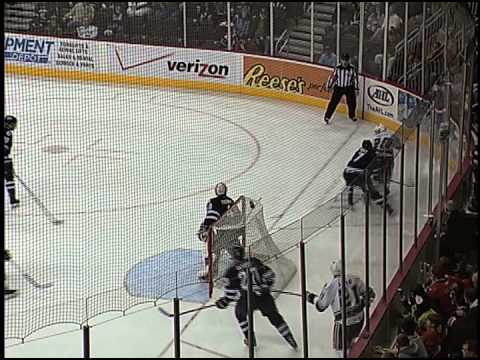 Game Notes:
1. Bears Injuries: Evan Barlow, Dmitry Orlov and Mattias Sjogren
2. Hershey Healthy Scratches: Patrick McNeill (veteran scratch), Matt Clackson and Mathieu Beaudoin
Three Stars:
1. Ben Maxwell (one goal, plus one, one shot on goal)
2. Eddie Pasquale (26 saves on 27 shots, assist)
3. Philipp Grubauer (25 saves on 27 shots)
You can follow Matthew on twitter @m_speck and email him at mspeck21@yahoo.com with any questions or comments.