Following two recent roster additions in forwards Casey Wellman and Peter LeBlanc, the Hershey Bears (21-19-2-2) picked up their first win following the AHL all-star break. Washington's AHL affiliate defeated the Manchester Monarchs (21-21-2-2) by a 2-1 score, largely in part to big contributions from the fourth line and the newest Hershey Bears.
The Bears increased their record on Saturday's to 4-11-0-1, in a game where they almost doubled Manchester's shot total, outshooting the Monarchs 44-23. Hershey goaltender Philipp Grubauer (3-3, 1.89 GAA) continued his strong play in net, coming just short of his first career AHL shutout.
The Bears improved their home record to 10-13-2-1, something they are looking to improve post all-star weekend.
"We put a lot of emphasis earlier this week on having a much better home record the rest of the season," said Hershey forward Mike Carman. "We put together sixty minutes, and it showed. We outplayed them for stretches in the game and it made the difference."
Hershey came out with loads of energy in the first stanza, dominating the Monarchs for the first half of the period. The Bears' fourth line struck for the opening goal of the game, striking 2:05 into the game. Barry Almeida netted his fourth goal of the season, assisted by enforcer Matt Clackson and versatile center Mike Carman.
Two new Hershey Bears played their first games for their new club, with Casey Wellman and Peter LeBlanc playing on the wings of Hershey's second forward line. The line was centered by second year Hershey Bear Ryan Potulny.
"I thought it went well, obviously we got the win," Wellman said. "I think my first shift I was a little tight, new team. But after that I kind of loosened up and felt good. It was a great crowd and I had a lot of fun."
The Bears outshot Manchester 11-9 in the first frame, taking a 1-0 lead to the dressing room. When trailing after one period, Hershey has a 0-9 record, something they didn't have to worry about the rest of the game.
Hershey chucked a season high 19 shots on net during the second period, but failed to beat Manchester net minder Martin Jones. The Bears totaled seven straight shots on net over the first 2:49 in the second frame.
Following a big hit from Monarchs defenseman Nick Deslauiers on Garrett Mitchell, Hershey penalty minute leader Steve Oleksy jumped in for his teammate, and energized the crowd with a fight 10:16 into the second period.
"It was huge," Carman said of Oleksy's fight. "He's a tough kid. He stands up for guys when a big hit's thrown. That really shows something, says we're not going to back down and it helps keep the momentum in our favor."
Hershey added to their lead 5:31 into the third period, taking a 2-1 lead on defenseman Cameron Schilling's fourth goal of the season. Schilling ducked in from the point and forward Mike Carman fed the Bears defenseman just as he reached the net. Carman's second assists marked Hershey's fourth line center first two point game of the season.
"When Mitchy [Garrett Mitchell] cycled to me in the corner I expected the [defense] to be on me," Carman said of Schilling's goal. "He actually gave me a few extra seconds, so I was able to turn around and get a good look at everybody and I saw [Schilling] right away, but I saw him sprint to the backdoor and I hoped he was going to get by that guy and he did."
The Monarchs came oh close to tying the game in the final minute, ringing a shot off the post that left the Hershey fans breathless.
Hershey hosts the Wilkes-Barre/Scranton Penguins Sunday afternoon at Giant Center.
Hershey Bears Lines
Ryan Stoa-Jeff Taffe-Jon DiSalvatore
Peter LeBlanc-Ryan Potulny-Casey Wellman
Boyd Kane-Jonathon Kalinski-Garrett Mitchell
Barry Almeida-Mike Carman-Matt Clackson
Game Notes
1. Attendance: 10,672
2. Bears Injuries: Dmitry Orlov, Mattias Sjogren and Dmitry Orlv
3. Hershey Healthy Scratches: Matt Clackson
4. Jeff Taffe's seven game point streak was snapped
5. Linden Vey's goal increased his point streak to ten games with his third period goal
Three Stars
1. Cameron Schilling (one goal, plus two, two shots on goal)
2. Martin Jones (42 saves on 44 shots)
3. Philipp Grubauer (22 saves on 23 shots)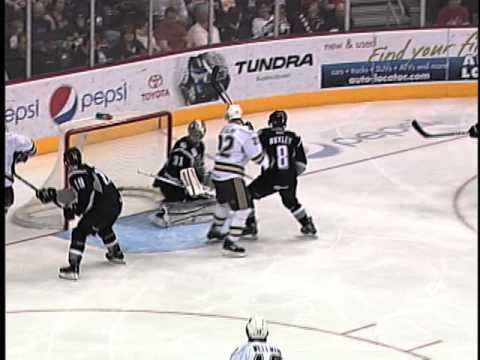 You can follow Matthew on twitter @m_speck and email him at mspeck21@yahoo.com with any questions or comments.