Here's a look at the forwards in the Oilers' opening-night lineup…
Taylor Hall-Ryan Nugent-Hopkins-Ales Hemsky
The Oilers will start this year with 3 of their first round picks on their first line. Hall broke into the NHL last year after being picked first overall and winning back to back Memorial Cups and MVP awards. He had a lot of hype around him, and though he had a slow start to the season, he showed that he could dominate the ice. Near the end of the season before he was injured in a fight, he was not just the best player on the Oilers at some points in games, but the best player on both teams. One of his greater tales of domination took place at home against Atlanta…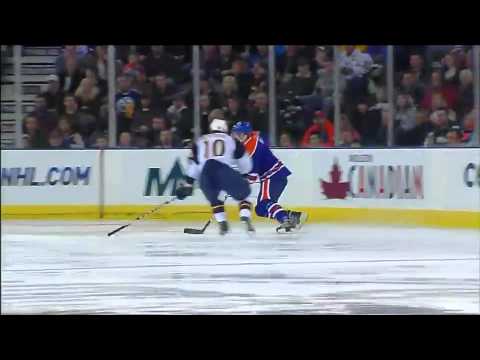 Hall at this point is the best player on the Oilers and he is only is his second year. Last year he had 42 points in 65 games, and I see no sophomore slump coming his way. If he plays in all 82 games this season, I'll be stunned if he does't score 70 points.
Centering the Oilers' first line is this year's #1 overall pick Ryan Nugent-Hopkins. RNH scored 106 points in 69 games during the regular season and 11 points in the playoffs. He impressed everybody in the preseason with his spectacular skill and brilliance with the puck. He was Edmonton's  leading scorer in the preseason and has been given at least nine games with the Oilers to impress. He has been given a great opportunity centering the first line and even though the Oilers have made it clear they aren't going to rush him, I see him showing he can play in the NHL, and making the team. At this point, it's a given. In his rookie season, I could see 55-65 points from him because of of his skill and the skill that will be around him.
Finishing of the top line is RW Ales Hemsky. Hemsky, up until now has been the Oilers best player for years. He only scored 20+ goal in 2 seasons, but has reached the 60-point mark three times with a high of 77 points in the 2005-06 season. Though he has tremendous skill, Hemsky's main problem has been the injury bug. He has never finished an 82-game season, and only played 22 in the 2009-10 season. Factoring in the imminent injury, Hemsky will score at least 50 points, but probably not much more.
Ryan Smyth-Eric Belanger-Jordan Eberle
The return of Ryan Smyth to Edmonton was arguable a bigger event the the arrival of Ryan Nugent-Hopkins. Captain Canada bled Copper- I mean Orange and Blue and was part of one of the saddest moments in Oilers Hockey next to the Gretzky trade.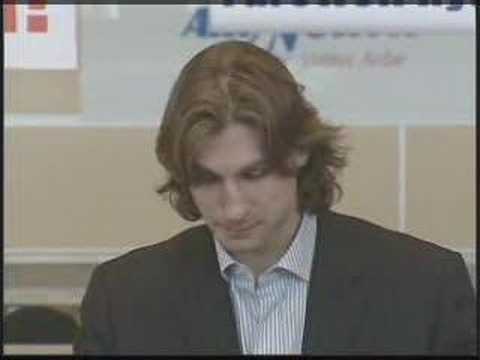 He was the face of the franchise and helped lead Edmonton to one of the greatest moments in recent history in the 2006 Stanley Cup run. Now, Smitty is not the player he used to be.  He had 2, 30 goals seasons in Edmonton,  and only fell off of that pace by a little, scoring 26 goals with Colorado, and 22 and 23 with L.A. It would be insane to expect much more than 50 points, but I wouldn't be surprised if he scored 24 and put up 21 assists. He is gritty and will provide leadership that the young Oilers are in dire need of. His return is more about that than scoring goals.
Eric Belanger will be slotted in as the second line center on opening night. With only 40 points in Phoenix last year it's clear that he was not brought in for his offensive ability, but for his skill in the face-off dot. For the amount he took last season, only 5 people had better percentages with similar number of draws taken. In the past, Shawn Horcoff has been the only Oiler who could be highly trusted to take a defensive zone face-off.   This will take a ton of pressure off of him and help the Oilers in an area they are desperate at.
Jordan Eberle is another sophomore who will break the slump in my mind. Eberle is another exciting youngster who has been the epitome of clutch for hockey Canada as shown here: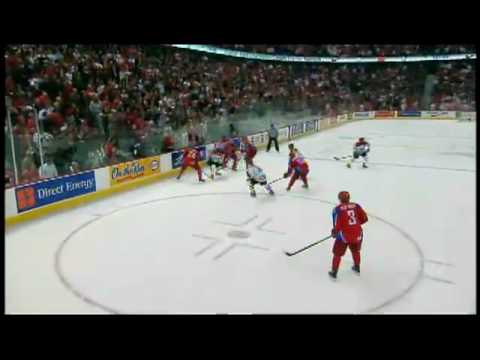 Here: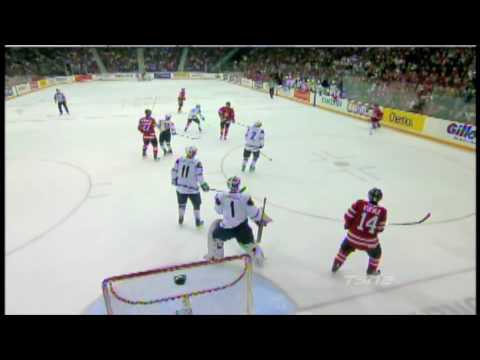 And here: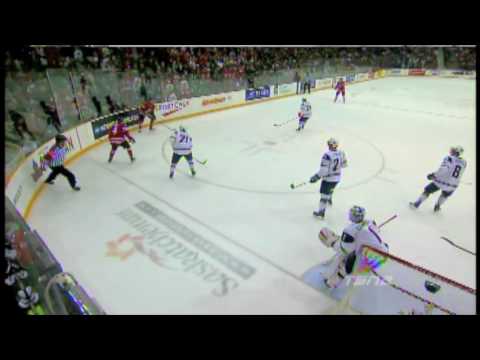 Even When the guys scores his first NHL goal, he does it in style:
Did I mention that was his first NHL game? Eberle scored 43 points in 69 games last year and will have close to 60 (if not more) in 2011-12.
Magnus Paajarvi-Shawn Horcoff-Linus Omark
Paajarvi was the least flashy of last years rookies, and seemed to be a little streaky. He has a ton of skill and potential, but seems to be the most likely contestant for a slump. He didn't have a bad season by any stretch, but was out-shun by Hall and Eberle. He will be a great player in this league one day, i'm just not predicting it will happen this year.
Playing the role of the third line center to start us off will be Captain Shawn Horcoff. He has not filled the role for a number one center that the organization and city pressured him to excel at, but has found a new role. Horcoff is still one of the most integral parts of this team as he provides stellar penalty killing, great defense, and a good face-off percentage. In his absence last year, the Oilers struggled in all 3 areas proving that he is just as important as Hemsky, Hall, or any other scorer. I predict he will score around the 35 point mark, but that's not where his importance will be present.
Rounding out the third line is Linus Omark, the feisty Swede who's highlight of the season was bringing out the best in Dan Ellis and the Lighting.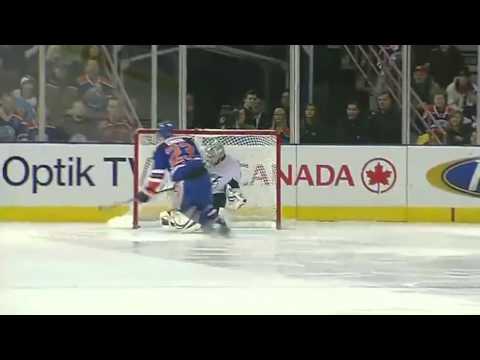 Did I mention that was his first NHL game? If Omark had anything beyond skill, it was want. After he was sent down at the beginning of the season, he was miffed. He then proceeded to score 31 points in the AHL and was recalled to score another 27 in the NHL. I expect 40 points from him playing in his first full year with the Oilers.
Lennart Petrell-Anton Lander- Ryan Jones
Petrell is the big hitter and penalty killer the Oilers need, and because of injury, he has been given a shot on the big squad. This will be the first year the Finn will play in North America Full time.
Anton Lander is the 3rd rookie to crack this team and has a lot of promise. You can read more about the smart, 2-way forward here at Oilers Nation. Lowetide breaks him down stronger than I can.
The final forward making the season debut on Sunday against the Penguins will be Ryan Jones. Jones was a pick-up on waivers that turned into an 18 goal scorer. None of his goals will be pretty, but he picks up the garbage just like teammate Ryan Smyth. Jones just signed a 2 year contract with Edmonton and will be a big part of the 4th line.
*Noted injuries to start he season: Sam Gagner and Ben Eager
 Coming up next: The Defense, or lack there of.