A few weeks ago the New Jersey Devils hosted a group cruise which set sail from New York City to Saint John, New Brunswick. Devils' Alumni Ken Daneyko and Mike Peluso took 60 Devils fans down memory lane as they discussed the year they won the 1995 Stanley Cup, the first Cup the Devils ever won.
Of course, this was one year after they lost to the Rangers.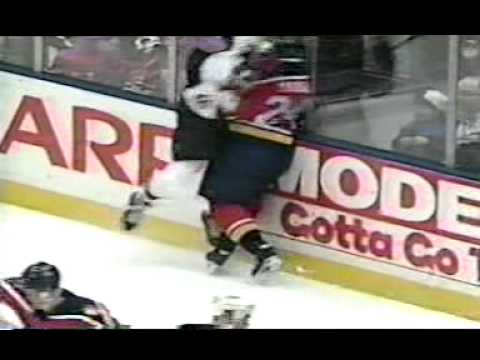 Peluso and Daneyko spoke about their mishaps, memories and favorite moments playing the year the Devils won the Cup in '95 (as well as other fond memories filled with laughs).
A lot of things have changed for the New Jersey Devils since that 1Cup year. Peluso, for instance, hasn't been around to the new Meadowlands since the Devils headed to Newark. But somewhere off the Atlantic coast, he took a trip down memory lane recounting the days of his old stomping grounds.
"After one game," Peluso began. "I cut across the parking lot. You know those beams? Those light poles? You can't see them? I ran right into one. Air bag went. I got the truck home.
"I told the guys on the team and they said, 'Oh yeah, everybody does that once in a while.' I didn't feel so bad."
Game Changes
After Peluso retired, he worked for the Edmonton Oilers as a scout part-time in Minnesota.
Since the '95 Cup, the game has changed a lot.
"I watched some of the games recently," Peluso said. "It's fast. How much better can it get (the speed of the game)? The equipment too changed. I think if you put a pair of 2013 skates on me I'd still be slow… [The game's] changed a lot. I can't believe how athletic these guys are.
"They're protecting the players now. My personal opinion on it, I think they've taken a little bit of the hitting out of it. Like Scott Stevens…he was a crusher on the ice, and good solid checks. I was just thinking that guy probably would have been suspended all of the [time] if he did that today.
"Guys had to adjust and change, but I enjoy the game now."
Daneyko, who now serves as one of the TV analysts for the Devils, shared some light on the way the game has changed since 1995.
"I think because of some of the rule changes, the speed…it looks faster than it is. I don't want to take anything away from the 90s. People always ask me are players better today. I think it's deeper, the roster. I think it's more skilled on the fourth line. On the flipside, I think it takes some of the character away. Guys like Mike [Peluso] and the Crash Line were involved on the fourth line, but they played a regular shift. They were so instrumental in our Stanley Cup win in '95. That was McKay, Holik and Mike. Those were character guys. I think we're missing some of this nowadays because we've gone a little more with the speed and the skilled game. Don't get me wrong. I love the game today. I think it's great. I hate going back to yesteryear and saying this is better and that is better. It's like comparing. Everything evolves.
"The emphasis is more on skating. You have to be able to skate now and handle the puck, and take away a little bit.
"But the happy medium…I love the way the game has gone. I love the skill level and speed, but the happy medium would be the game doesn't police itself as much. Guys get away with more. I think that's a big reason for the concussions. Back in the 80s and 90s when it was the prime of my career, if I was going to go into Philadelphia and run one of their star players, I gotta be ready to answer the bell. If I didn't feel like it that night, I might have played a little cleaner. But today, you don't have to worry about that. It's made a big difference in now. Everybody is running everybody and that's why we see so many high speed collisions.
"Guys thought about it twice back then. If they had to answer the valor and pay the price because they knew the next shift, Mike Peluso or Ken Daneyko or Scott Stevens or Ryan McKay were going to come out and come after you."
"Looking back at our line from '94," Peluso added. "I just brought some stats back from '94. As a fourth line, we had 80 points. We were plus 72 as a fourth line. Our overall plus/minus was 426 as a group. Of course, Marty was awesome too. And that Chris Terreri would jump in too…it was a great team."
Devilish Beginnings
Peluso was originally drafted by the New Jersey Devils, but didn't receive a contract. He tried out for the Chicago Wolves and made the team. He then played for a few other clubs before being traded to the Devils.
"I always said if I made it, I was going to give the Devils a little trouble," Peluso said. "I scored against them. I fought a lot. I always played my best games against New Jersey. Me and Randy [McKay] fought…hell, God only knows. Kenny was tough and Scotty [Stevens]…I remember running Scotty from behind there when they pulled their goalie against us. I drove Scotty nuts.
"When I got traded [to the Devils], I was real nervous for training camp. That whole summer, my stomach was always sore. The fact that I battled these guys, and I was a lot younger.
"I went in there. Kenny was amazing. He said, 'We're really glad to have you on our side.' I just kind of relaxed. And then Randy [McKay]…it took Randy a little longer.
"So I'm waiting, 'Oh shit, I have to fight this guy in camp.' [Randy] came up to me and said, 'Hey, we had a lot of fights back then.' I said, 'Oh, yeah.' So we loosened up a bit. Then we decided we would never fight each other again.
"I think I took a lot of that role playing work that Scott Stevens was doing, so Scotty could focus on playing more. He was still rough and tough, but I think I took a little bit of those majors away from him, because he likes to do that work too. He focused on hockey and I think he got 86 points that year. To this day, I can't believe he never won the Norris Trophy. It was just a really good solid team."
The Hardest Part of the Job
When it came to facing difficult or rough teams, both players cited that, sure, they had those nights when they wanted to sit out because they were nervous or scared, but they battled through as a team.
One of the hardest teams to play against were always the Philadelphia Flyers. Daneyko spoke of how in the 80s, you could hear a pin drop on the bus as they made their way to Philadelphia. Even in 1995, they proved to be a rough team to play against during the playoffs.
"You walk into an opponent's locker room and they have their lineup posted up on the board," Peluso said. "Humanly, you just look to see how many knuckleheads they got in the lineup."
"We're not knuckleheads!" Peluso added.
"They're saying the same thing," Daneyko added. "We didn't know that."
"You never reach your potential if you're scared on the ice," Peluso continued. "Our roles were to protect the [younger guys]. A lot of kids don't reach their potential because they're scared on the ice."
Peluso spoke about the veterans coming to the aid of their younger teammates to let them know that they had their backs, so that they would focus on their game without feeling nervous or scared when they faced a difficult and rough club.
"There's nights I didn't sleep," Peluso said. "I did my best when I was scared. I remember when I was in Chicago, some Detroit fan called me and said he was Bob Probert. He was going to kill me the next night. That was in the hotel. They don't block your calls. I said, 'Aww…geez.'
"So I think I'm with Troy Murray and he goes, 'Who's that?' I say, 'It's Bob Probert.'"
"It was just a fan," Peluso exclaimed. "I can't sleep as it is. He's got to call me?"
On the Road
"I asked one night to be put on the power play," Peluso said in all seriousness.
In Lemaire's French Canadian accent he says, "Pelu, you're not going out on that power play. You play down on that fourth line. You get pucks out of the neutral zone."
"That '95 year, there were some good teams we beat," Peluso said. "We were a good road team. I think the reason we were a good road team, we had a great group of guys, the camaraderie. You can't win unless you're close. We had one of the closest teams."
The '95 Cup Team
"Which team was the best out of the three Cup teams I played on here in New Jersey?" Daneyko asked. "The answer is always every team was completely different. I think the 2000 team was the most talented, because we had skill up the wazoo. But the '95 team was the craziest crew with the most character by a mile."
"We had a veteran group," Daneyko continued. "But the character guys and the toughness…I know in 94/95 I went into every game not too scared of anything because we had a lot of backing, a lot of character players that had each other's backs. That [95] team, I look back at probably the fondest. What a group of guys! Everybody had different personalities. [It] was nuts, but when we got out on that ice, we knew how to win and what are role was. In 2000, we could have won blindfolded. We were that good. This '95 team was all about heart and character. Not that we didn't have skill, because we did. There was a lot of heart and character, probably more than any team."
"Everybody knows what a great player [Niedermayer] was," Peluso said. "I think what stands out in my mind is that end to end rush against Detroit in Game 2. He looked like he did it on purpose. He banged it off the boards to himself and into the net."
"What people don't know about Nieder," Daneyko said. "What made him special, he would look so calm, cool and collected, but you don't realize how intense he was inside. He wanted to win. He played hard. He didn't say much, but I remember when he clubbed Peter Worrell, a tough guy over the head in Florida like he snapped. He had that inner drive."
"He was a great teammate…one of my favorites," Daneyko said of Niedermayer.
The Coaching Staff
"When a guy like Jacques [Lemaire] or Larry [Robinson] walk [into] your locker room and they've got 18 Stanley Cups, you listen," Peluso said of the '95 Cup coaching staff. "We were smart in the press. We didn't say the wrong things. I think a lot of people underestimated us. I looked on this sheet…we were +426 as a team. We didn't have a guy in the minus, but we got our offensive chance and a good defense. We turned the puck over and then we'd wait. We'd jump on it and then we'd shut the other team down.
"For me, personally, I didn't think I'd ever play in the league. Now, here I am. I'm 30 seconds away from putting the Stanley Cup over my head. Then it hit me, too, that Kenny, Johnny Mac[Lean], and Bruce [Driver] were the original Devils. They had some tough years in the 80's. That hit me. It really did. I get chills thinking about it. See these guys, they had some long nights in the 80's I'm assuming. To see these guys, they've been in the organization all those years…to get an opportunity to put that Stanley Cup over their heads…these guys are the Original Devils."
"When I look back at the 'so-called' experts," Daneyko added. "I guess I'm in that media part of it now, but I try to be a little bit more realistic with the guys and I hate using that term 'the Canadian guys that think they know it all,' they've never played the game before and they're going to tell you who's going to win, who's got the best teams, and we all know in hockey that the best team on paper does not win all the time. Although if you look at our lineup, Jacques Lemaire, I'll never forget, before the series, we were supposed to get swept. [We were] heavily the underdog against the Detroit Red Wings. The coach's job, in my opinion, is to make sure you believe.
"We got on a roll at the right time. We didn't have a good season that year. We snuck in, sixth seed, but we got rolling. We had a veteran team that was able. Very rare for you to turn on the switch. You want to go in pretty strong. Our team was coming in flailing .500 at the end there as far as just getting in there. We had such a great veteran group that we believed in ourselves and the switch turned on. We knew we had to ramp it up.
"I remember as we cruised along here and we got to the Stanley Cup Finals, we had to pinch ourselves to wake up, because of obviously where we came from to actually winning the Stanley Cup. It was hard to fathom.
"But Lemaire would put both lineups on the board. He'd say in his French [Canadian] accent, 'I'm reading the newspaper and we don't have a chance, so why don't we just give them the Cup now?'
"Then he would point to players. 'Dano, can you outplay this guy?' Then… 'Riche, can you outscore this guy?' 'Mike, can you outbattle this guy? Are you better than this guy?'
"I think some of us looked at the lineups and thought, 'Geez, really they aren't that much better than us,' because we believed it. We're looking at it comparatively and we're going, 'boy, we are not just doing this by accident, we got a hell of a team here!' I think that kind of gave us the ease of going in.
"We were supposed to get swept. We were kind of invincible at the time and that's a good feeling to have…the feeling that you can do nothing wrong."
Fun and Games
All hockey teams are notorious for having their own pranksters and jokesters.
"I did some pranks," Peluso said. "But I was always so early to the game. I had to have something to do."
"Sawing the sticks in half when the guys were a little bit late," Daneyko described of pranks he had seen on the Devils. "They don't realize it until they take their first shot and fall on their face."
"We cut ties when guys fell asleep," Peluso added.
"The old baby powder in the blow dryer," Daneyko described of the days long gone when they all had long hair. "They'd turn it on and…woof…all over. We got somebody good one time. We got Randy [McKay] good back then. All these tough, macho guys using blow dryers in the dressing room! When I look back, we were kind of wimpy back then."
"Scotty Stevens wore no socks in his skates," Daneyko said noting that Stevens would be mad if he found out he told this story. "I sat next to him. Literally, you couldn't stand [4 feet away], They stunk so bad. I couldn't come into the dressing room. I had to move my stall because he felt more comfortable with no socks. It was absolutely treacherous."
"Scotty could sing," Peluso said.
"Scotty had big everything…big hands, big feet," Daneyko said.
"He was the male version of Celine Dion," Peluso said.
"Claude [Lemieux] thought he could sing," Peluso added. "It drove me nuts."
"Claude complained about everything," Daneyko said. "Our bus driver, Hans, said 'I've been with those guys all the time.' He drove the bus all the way to Detroit, so we had our own bus in the Stanley Cup Finals. They asked him how the guys were on the bus. He said, 'Oh, they're all very nice, very good, except Claude Lemieux. He complained it's too hot. It's too cold. It's too low. It's too loud.'"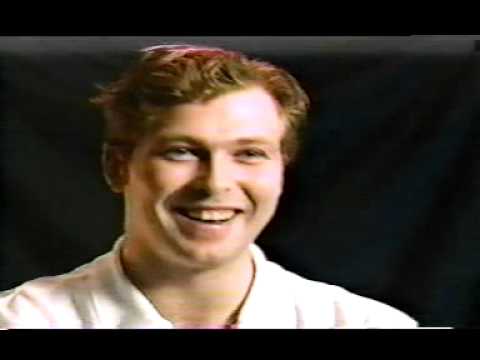 Superstitions & Pranksters
As for superstitions, Peluso is well known for showing up to the games early. That was his ritual. He was there before the trainers arrived. He always stopped for coffee at Dunkin Donuts before arriving 3-4 hours before the game.
There were a lot of quirky rituals. From guys going to certain spots out on the ice, to players never changing their socks, to guys that used the same gloves all year long, they all had their unique rituals. For Daneyko, he ate a bowl of oatmeal at 4:00 every day. If he didn't have it, he'd think he wasn't going to be as ready for the game as he should be. If they didn't have oatmeal, he'd go into panic mode.
"The goalies are usually the ones with those superstitions," Peluso said. "I hung out with goalies, and maybe because they had success, maybe they were just renting me as a friend. I ran around with Eddie Belfour for 12 years when I was in Chicago, but when he was on a roll winning…he had to be by my side. I'm like, 'Are you kidding me? Or are you just doing this because you are superstitious? Or am I a cool guy?"
"It was really amazing that Marty [Brodeur] didn't," Peluso said of having superstitions. "To be as good as he is to not have a screwy superstition."
"I was going to say the same thing," Daneyko said. "The word out is that every goalie is weird. Marty was not weird or different. Some guys would never talk in the dressing room. You can't bother them. You can't look at them. Marty, he would talk in the room. He'd talk on the ice. I guess he was pretty calm, cool and collected. He is one of those rare ones that wasn't weird."
"Claude Lemieux was a funny guy," Peluso said of the characters on the team. "He was so intense."
"[There were] not too many [pranksters] maybe because I was always doing all the shit," Peluso said. "I would put Billy Guerin at the top of the list. You've got to keep your eye on Billy."
"Billy had a dry sense," Daneyko added. "He still does to this day. Billy is funny, goofy and a great big goofball, but a great teammate. He always kept it loose. He always had something fun to say."
"He did things with a straight face to get you going," Peluso said.
"The jokes were a lot of good jokes," Daneyko said. "You always got your different characters and Billy was one of the jokesters."
"The impressions…he could do anybody," Peluso said. "I remember he came in the locker room and made everybody sit down. He stands up in the middle of the room and says, 'We need a moment of silence.' We go, 'Why?' 'Well, [Peluso's] boy, Dean Martin, died last night. I'm a big Dean Martin fan."
"One of the funniest stories I remember," Peluso said. "We went into Vancouver. They had Gino Odjick, he's a tough guy. They had a sign in the stands. It said 'Gino is tougher than Saddam Hussein.' You know, that Persian Gulf Crisis? And Gino thought this guy's in the lineup. He goes, 'Who's this Hussein guy? Is he a righty or a lefty?' [His teammate] said, 'No, he's in the Persian Gulf.' [Gino] goes, 'Thank God, I didn't sleep all night.' He said he'd been hearing all about him on the TV."
"He said when he gave tickets to his friends and family. [They asked him], 'Do you got names for me?' He says, 'No. One has long hair. The other has short hair. I think the other one should be wearing a jean jacket.'"
The Finals
"We dominated in Game 1," Peluso said. "We actually stole the game in Game 2. Here we are going back to Jersey with two games up. It could have been 1-1 and then Nieder scores that goal and banks it off the boards and into the net. We got some breaks too, but in Game 2, we basically stole one there. In Game 3, we just outplayed them…in Games 3 and 4. You just never get comfortable until that buzzer sounds, because there are so many momentum changes."
"You could just feel it after Game 2," Daneyko said. "You've got to win a game after a series you didn't deserve or sneak it out. But after we started feeling good at home after Game 3, you just feel…you've got to do the work and the preparation…you feel invincible.
"In goal, we were as good as it gets," Daneyko said of Martin Brodeur in net.
"I felt invincible there against the Red Wings," he said of the series. "I felt this team's too good. We're too focused. We knew what it took to beat them. You could see the frustration in their face."
"Scotty Bowman, the legendary coach, said that's the most disappointed, the most disgusted I've been with one of my teams I coached. What that meant to me was that it wasn't so much what Detroit didn't do, it was what we were doing."
"The '95 team was always about…the other teams we beat, we'd read about it in the paper. We'd eliminated them and all we'd hear was, 'that's the worst four games we've ever played as an organization. We really are bad. That's the worst.' And they never gave us any credit."
The Celebrations
Daneyko's day with the Cup wasn't spent back in his hometown in Edmonton. New Jersey had become his home, so he shared the Cup from the Jersey Shore all the way up to his home in Monmouth. Peluso spent the day with the Cup back home in Minnesota. His dad played the accordion all day long as they celebrated.
"He was jamming his swing box," Peluso said of his dad. "He played and played and played."
For the team, they celebrated together with the Cup the day after winning at Daneyko's old restaurant.
"It was nice to have dinner and have some music and share it together," Peluso said.
Peluso missed the party that went on until 5 or 6 o'clock in the morning at Daneyko's restaurant, as well as the players appearing on The David Letterman Show. He noted that back then, they didn't have cell phones. "If you did, they were this big," he said holding his hands about a foot apart from each other.
"When you win, everybody wants to be around a winner," Daneyko said of the celebrations after they won the Cup.
More to Come…
Both Daneyko and Peluso have a story…the story before the '95 Cup story…the story that led to their professional hockey careers that one day led to a Stanley Cup being risen over their heads. Later this week on Inside Hockey, Daneyko and Peluso's stories will be shared.
For those who ever wondered why Daneyko is called "Mr. Devil," just read his tale of growing up hockey and his time with the Devils. Somewhere in that piece you'll discover why he really is "Mr. Devil."