Last week, we projected that the Caps' top line would be Nicklas Backstrom, Mike Knuble and Alexander Ovechkin. This week, let's take a more detailed look at each player and the line as a whole.
Nicklas Backstrom, Center
Backstrom is entering his fifth year in the NHL. His career point totals by season look like this…
69: Great for a rookie!
88: Way to Improve!
101: OMG we're giving you a 10 year deal!
65: HUH?
It's safe to say Backstrom had a down year. Hell, it's safe to say he had a bad year when you consider his playoff points were a meager two. A statistician would look at the trend, and the average. That would mean that #19 is due for another 80+ point season. Here at Inside Hockey, we can't just do the simple math and call it a day. Like an itch that never gets scratched we reach out, searching for an answer to it all. Before we project into this year, let's just look at a couple more tidbits from the stats on Backstrom. There is an interesting argument to be made about what Capitals fans should want from their top center ice-man.
Backstrom's plus-minus during his first two seasons were +13 and +16. During the 101 point season it was +37. Last year it was +24. He dropped almost 40 points but only 13 plus-minus. Granted, the Caps scored far more power play goals that year. Still, Backstrom's development lies in becoming a very special two-way forward. Think about it… Who are the best centers in the league, for winning championships? The names Pavel Datsyuk, Henrik Zetterberg and Sidney Crosby come to mind. Throw Patrice Bergeron and Ryan Kesler in there too, if you like. All have the skills to be considered a playmaker but have transformed their game to another level of description. Take Kesler out of that discussion, please. They are great defending forwards who score quickly, efficiently and frequently. After watching almost every game last year, and watching the Caps new shut-down type defense grow, it's apparent that their biggest problem is that they don't have a go-to play that more than one forward participates in.
I'll get more into that later, for now Caps fans should be rooting for Backstrom to score 80+ points with a +35. That would mean the Caps are still playing great defense but he is capitalizing on his scoring chances.  It would be nice if he increased his PP points too. Finally, it's important for Backstrom to increase his goal scoring. As we all saw during HBO's 24/7 other teams game plan for Backstrom's passing. He misses a lot of great opportunities by forcing a pass across the crease. Even more frustrating is when Backstrom forces the puck to Alexander Ovechkin. By being aggressive and looking to score more goals, The Caps center can open up lanes for the passes he loves to make.
---
Mike Knuble, Right Wing
Knuble is the projected right wing on the Caps' top line. This projection indicates that Knuble will play the majority of the minutes. It is quite certain that Troy Brouwer will also get a chance to show his skills. When the Caps are down a goal or struggling to score, Alexander Semin will also see some time on this line. But for the most part, Knuble's familiarity and smart game will provide the Caps' top line with the best chance of being effective.
Last year, Knuble recorded exactly 40 points. Realistically, the Caps fans shouldn't expect much more than this, especially when 24 of those points were goals. Mike Knuble cleaning up around the net is the best use of his skills. The success of the top line does not really depend on him. His job is to be disciplined and capitalize on the attention paid to his line mates. One place Knuble could use some improvement, is on the fore check. At almost 40 years old, Mike Knuble has lost some of his edge and physicality. If he can bring the wood just a little bit more, it could really help Ovechkin stay out of bad situations and possibly prey on ill advised passes. This is, of course, reliant on Ovechkin not being the lowest person in the zone. If he is, Knuble has no choice but to be the first or second forward back. Either way, we expect another 20+ goals and hope his veteran leadership will help the Caps down the stretch.
---
Alexander Ovechkin
Finally, we can look at Ovechkin. "The Great 8″, "Ovie" or "Sasha" as his father calls him, needs to finally take the next step. That next step is leading his team to an Eastern Conference Championship, if not further.
What do the stats tell us? The stats say that Ovechkin delivered career lows in points, shots and shooting percentage in 2010-11. It's not a good combination, and the relationships don't make sense. He had fewer goals and shots, that part makes sense. But his shooting percentage should have stayed relatively constant, and it dipped precipitously from 13.6% to 8.7%. The answer: stop doing the same move all the time! The Capitals used to break out of the zone a lot harder than they do now. That's the difference between the "old" defense and the "new" defense. They used to get insane amounts of Ovechkin one-on-one with a D-man in the offensive zone. He comes up the left wing, dekes to his backhand a bit, then swoops towards center ice in sniper mode looking to shoot through the legs or straight on net. We've seen it work a million times. So has the rest of the NHL after 301 goals in six seasons. If EA Sports NHL 2011 predicting over 90 percent of the playoffs series means that players play like their real life counterparts, Alex Ovechkin should be able to do some crazy stuff. How about more of this move?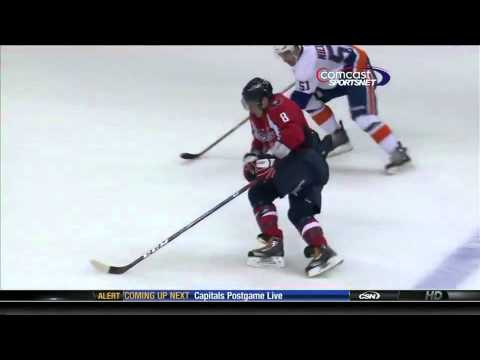 The thing that sticks out is a lack of hockey awareness. When the Caps switched their style mid-season, Ovechkin would mediate between his signature move and a mindless dump behind the net because it's "safe" and "smart." They need for him to do a better job of sensing the game situation and take over. Let's not kill Ovechkin's game, though. He was still actually pretty clutch, with 11 game-winning goals. With all that talent and skating ability, it's tough to watch him fail at playing with poise. He could easily come into the zone, find a soft spot and help the team set up a play or offensive rhythm. Hopefully, that's what he's working on this off-season. The projection here, is that Ovechkin turns a corner and the Caps win a lot of regular season games.
---
Let's finally talk about the line as a whole. It will important for all the things mentioned in this article to work together. If the team continues to play a strong defensive style with Nicklas Backstrom developing his two-way game, they will still find themselves needing to capitalize efficiently and consistently. A pass to Ovechkin up the left wing will hopefully lead to a solid entry and Ovechkin on the puck. That's always dangerous. If it's Nick Backstrom on the entry, his Swedish style compels him to take it slow and wait. No more one-and-done possessions with only one guy involved in the play. It creates bad skating directions for the rest of the team when the puck inevitably gets turned over.
Alright, the Caps are now in the zone. Mike Knuble goes down low with a chance to get down in front of the net. Ovechkin and Backstrom are looking to find each other. Behind them are one of three solid offensive defensemen in Mike Green, Dennis Wideman or John Carlson. This is where Backstrom would usually create some space with nifty moves only to blow it with an ill advised "cutesy" pass, as head coach Bruce Boudreau would say.
The new and improved Backstrom is looking to shoot more now. He's getting the puck on net with excellent accuracy. This is creating opportunities for Mike Knuble, not turning it over and setting up the defense so he can pass it next time. Either way they are kept on their toes, the Caps aren't the ones getting frustrated. Ovechkin will get more quality shots and won't get blocked as much. There is no stat for this, but it's a good bet that Ovechkin had his shots blocked more frequently than any other player in the NHL.
Overall, the Caps' top line just needs to develop more set plays off the rush and build on the zone control game they did so well against the New York Rangers. They need to use their superior talent and be confident. When confidence is high, players trust their instincts and know that they can beat their opponent. This line, playing with full confidence, is a nightmare for opposing checkers to stop.