The 2010 Capitals development camp featured a prospect pool that's going through a transition phase. In previous years, some of the participants were virtual certainties to play at the NHL level that season. Such is no longer the case now that John Carlson, Karl Alzner, Semyon Varlamov and Michal Neuvirth have all graduated to the NHL.
That's not to say that the development camp roster didn't feature its fair share of talent. Stanislav Galiev, Marcus Johansson, Evgeny Kuznetsov and Braden Holtby headlined this year's crop of invitees.
Here are some lessons we can take away from what we saw at Kettler Iceplex.
The Capitals Will Have No Problems Finding Centers…Starting in 2011-12
Kuznetsov and Johansson both displayed game breaking talent throughout the week. It's hard not be excited about the two of them anchoring the second and third lines when they're ready to make the jump. But how close are they to being ready?
Johansson showed flashes of brilliance but as a whole struggled to adjust to the North American game at camp after playing in the Swedish Elite League last season. GM George McPhee has been quick to point out that Nicklas Backstrom also struggled with the smaller ice sheet during his first development camp.
Last year's first rounder is perhaps the team's top prospect among skaters right now, which is why he's been talked about as the solution to the second-line center void. But is he really ready to hold down the 2C spot for a Stanley Cup contender? It seems unlikely.
If anything, last week showed that handing Johansson the keys to 2C is a premature idea at best. Nobody is denying his puck handling skills or his skating ability. Let's just see how he does in Hershey before getting ahead of ourselves.
Meanwhile Kuznetsov stood out as a superior talent on the ice. The team's 2010 first-rounder looks to be a steal for where McPhee drafted him, but odds are we won't see him in North America this year thanks to his transfer issues in Russia, so he is at least a year or two away.
Whenever they're projected to arrive, Johansson and Kuznetsov appear to be for real. Throw in Galiev and up-and-coming Hershey C Mathieu Perreault and the team could be set at center for years to come. The question is, will that happen in time for this current roster to put it all together?
Next offseason Brooks Laich, Alexander Semin and Mike Knuble will be free agents while Karl Alzner and the two goalies will be due for raises. The offseason after that they will have to re-up Carlson, Mike Green and Eric Fehr. The point is, this current group has one, maybe two years tops to make a Stanley Cup run before the salary cap dictates that not everyone can stay. Johansson, Kuznetsov and every other skater at training camp may hit their NHL strides too late to align with the current NHL group.
That's not to say the Capitals can't win a stanley cup beyond the next two years. In fact, a lineup anchored by Backstrom, Johansson and Kuznetsov down the middle with Alzner, Carlson, Green and Jeff Schultz all in their prime years on defense, not to mention that Ovechkin guy, may be a stronger core than the one that's in place now. But Caps fans may have to be patient.
It May be Time to Replenish the D Pool
Now that Alzner and Carlson are no longer prospects, the minors suddenly seem thin at defense. It's not a good sign when Dmitri Orlov, one of the few D left in the system with NHL potential, is called out by head coach Bruce Boudreau for showing up to camp out of shape. The good thing about defensemen is that you only need to start six of them, and the Capitals should have four spots locked up for the next few years provided Alzner and Carlson continue to progress.
Stefan Della Rovere May be the Next Tough Guy
The feisty two-time member of Canada's World Juniors squad made one of the biggest impressions at Saturday's scrimmage doing what he does best: being a pest. He and Trevor Bruess squared off in an entertaining bout at center ice that left Bruess bloodied and brought the crowd to its feet.
Della Rovere plays the game with the type of edge that the Capitals could use in the playoffs, and ideally he would translate into an Esa Tikkanen-type. But does Della Rovere have the skating ability, vision and soft hands required to play forward in the NHL?
"Everybody is a lot quicker and a lot stronger (at this level)," Della Rovere said. "My strength level is there, but I need to improve my quickness."
The potential seems to be there. He put up six points in six games with the Canadian World Junior team last year and amassed 41 points in 57 games with the Barrie Colts of the OHL. If and when he gets called up to Hershey, it'll be interesting to see if he can sustain that type of production. Like the others, Della Rovere is at least a year or two away from being NHL ready.
Caps Fans Love Their Hockey
By the time Saturday's scrimmage was underway it was virtually impossible to even find standing room to watch.
"I can't picture another team in our league having as many as three-thousand people coming to watch a summer scrimmage game," Boudreau said. "It's quite a testament to the enthusiasm of the fan base and the loyalty of the fan base to come out.  It makes you proud to be a Capital."
While I'd still like to see Montreal's development camp attendance figures before verifying whether that statement is accurate, the turnout was significant. This level of excitement for a hockey event in July is the product of a sea-change in the D.C. sports landscape. It's starting to become clear that hockey isn't just a fad.
So now we're left with another few weeks of summer until the players report to training camp. These are long, boring, hockey-less weeks where we have to feed on the scraps of speculation about leftover free agents and trade bait that won't be available for months.
Summer is so overrated.
In the meantime, check out these photos from Saturday's scrimmage, courtesy of Devon Kenworthy and myself.
Boudreau and Brooks Laich hang out before watching the kids play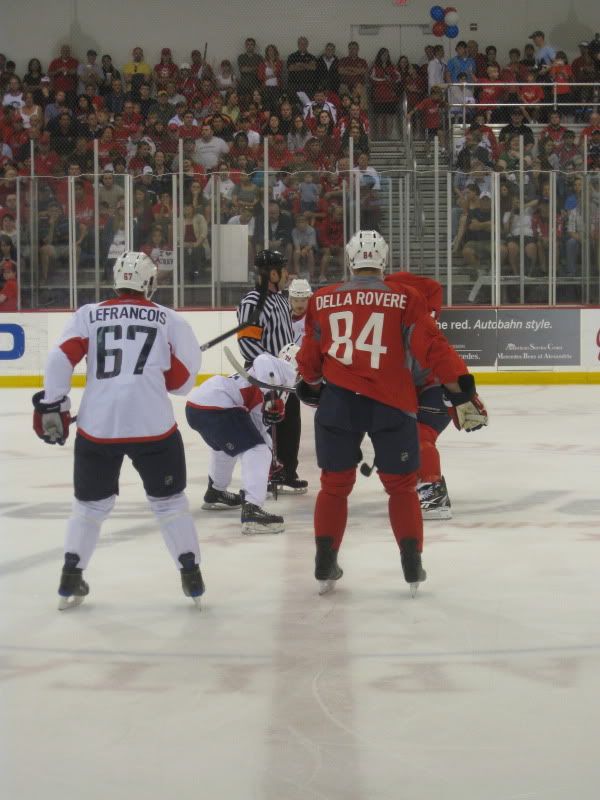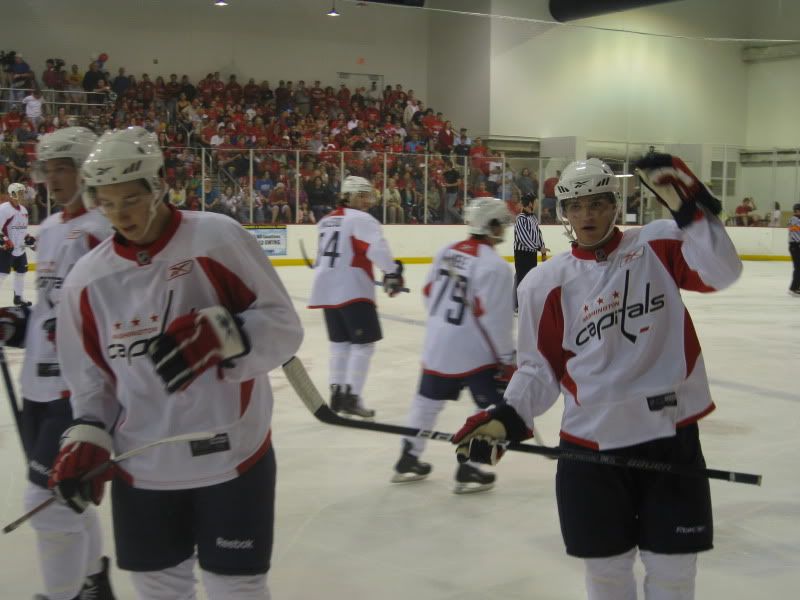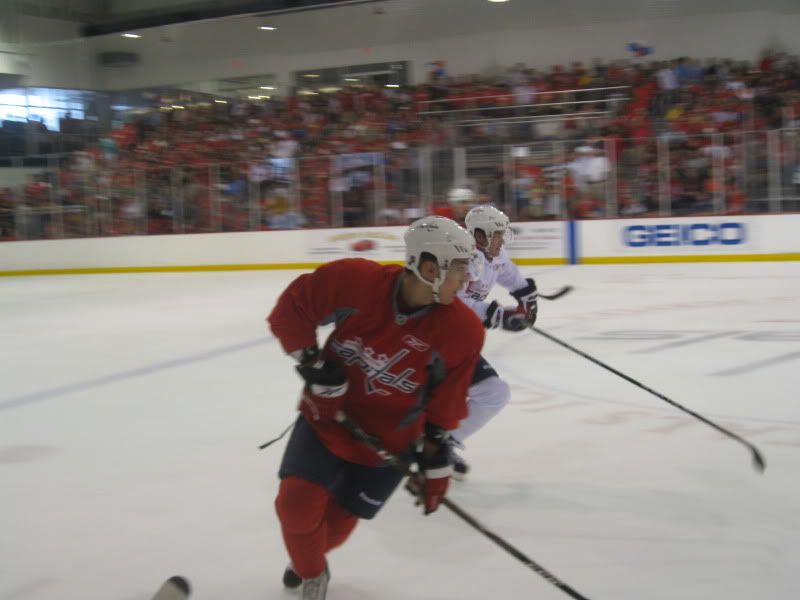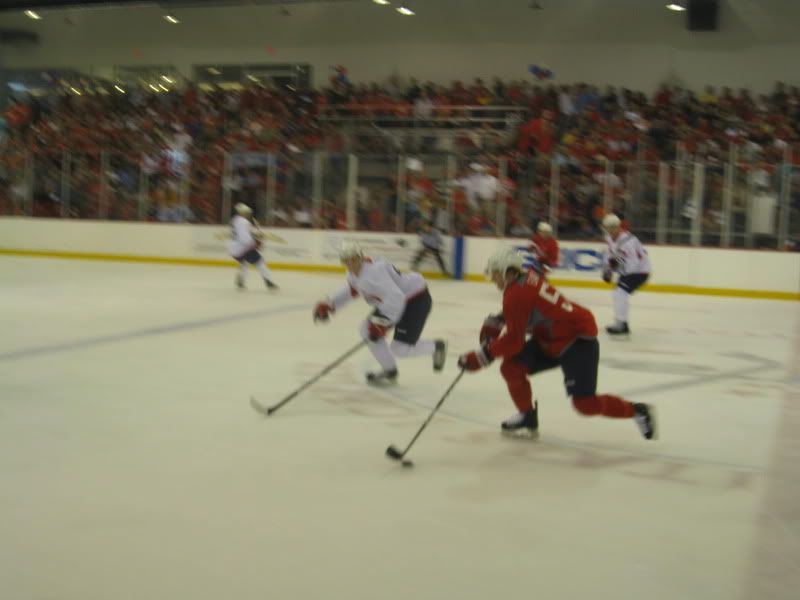 Cody Eakin made a strong impression Saturday with his quickness.
Get used to seeing this jersey.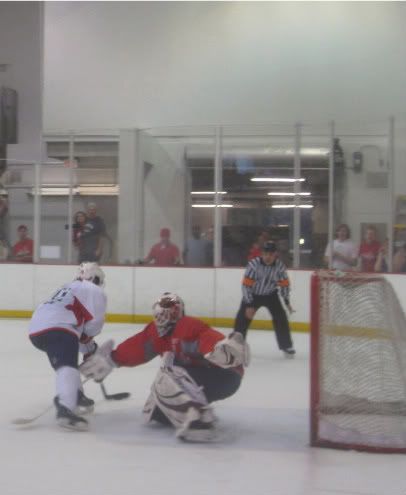 Braden Holtby goes down for a shootout save.
Handshakes all around.