Hershey Bears defenseman Steven Oleksy played a vital role for the Chocolate and White during the 2012-2013 AHL season. Washington Capitals' management has definitely taken notice. On Monday night, the Capitals signed the 27-year-old gritty defenseman to a three year entry level deal, to help the Washington defense corps in the shortened NHL season.
In his first year with the Bears on an AHL deal this season, Oleksy has recorded two goals and 12 assists, along with a team high 151 penalty minutes, third for AHL defenseman. He spent last year with the Bridgeport Sound Tigers of the AHL, contributing one goal and 14 assists in 50 regular season games.
Oleksy played collegiate hockey at Lake Superior State University in the CCHA for three years before turning pro, first playing for the Las Vegas Wrangers of the ECHL (East Coast Hockey League) beginning in the 2008-2009 season.
He brings a solid defensive game and has recently been paired with veteran defenseman Patrick McNeill before his recall. Oleksy will likely take a spot on the backend of the Capitals' blue line and could earn time on the penalty kill. He's not afraid to drop the gloves and stand up for a teammate, noted by his eleven fighting majors for Hershey this season.
With the recall of Oleksy, the Capitals bypassed defensemen Kevin Marshall and Cameron Schilling. Marshall has NHL experience with the Philadelphia Flyers and Schilling received an invite to Washington's training camp this January following the resolution of the NHL lockout.
With defenseman Mike Green on the mend, Oleksy joined the Capitals in Boston for Tuesday's game against the Bruins. Oleksy went on to post his first NHL assist along with a plus two in just over ten minutes of ice time in Washington's 4-3 win.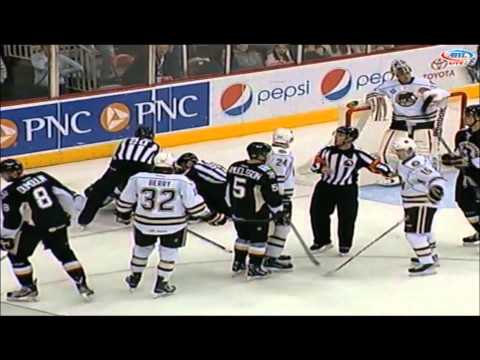 You can follow Matthew on twitter @m_speck and email him at mspeck21@yahoo.com with any question or comments.