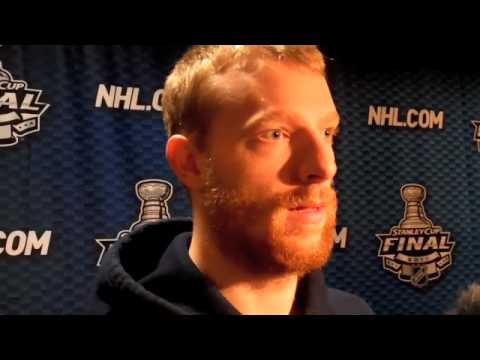 Pregame video courtesy of Tim Rosenthal
This could be it, tonight could see the Vancouver Canucks lift the Stanley Cup for the very first time in franchise history.
But let's not jump the gun, they have been blown away in the two previous games in Boston, and it's a key reason why the Bruins go into tonight's clash as favorites.
However, if the Canucks can maintain the way they responded in Game 5, Boston will need to fight for their lives to keep their season going. On Friday night, Vancouver smashed their way past the Bruins to retake the series lead with some crunching physical play and a lone goal from Maxim Lapierre.
With Henrik and Daniel Sedin playing more poorly than they have in years, and with Ryan Kesler clearly dealing with a significant injury, the responsibility has fallen upon some unlikely shoulders to carry the offensive load for Vancouver. Alexandre Burrows and Lapierre have come up big for the Canucks so far in this series, and don't forget Raffi Torres' game-winning goal in Game 1.
Roberto Luongo added fuel to the fire following Game 5 with comments about Thomas' positioning for Lapierre's goal. However, Luongo is only focused on bringing the Stanley Cup back to British Columbia. The comments have been blown completely out of context, as has most of the gritty and enthralling series.
It is time for the hockey to do the talking. The Bruins know they can beat the Canucks in Boston, and quite convincingly at that. But anything can happen when the Cup is on the line. The Bruins need to be more offensive-minded, and it goes without saying that Tim Thomas must deliver yet another stellar performance.
It could all end tonight, but many are saying that the Canucks do not deserve the cup. Statistically, the Bruins have been superior, but winning four games is all that matters. A win in Boston for the Canucks would silence the critics and bring the Stanley Cup back to Canada for the first time since 1993. The puck drops in less than nine hours.