With just one goal in the past 13 games and only five shots on net in the past three, Milan Lucic's offensive production is slipping. Nathan Horton, the line's "scorer," has also gone quiet netting only one goal in the past 10 games. Lucic, who some prematurely deemed the next Cam Neely, has had a 30-goal season before, which makes this recent slump even more disappointing.
After a disastrous 3-2 loss in Pittsburgh on Tuesday night, a game in which the Boston Bruins blew a two goal third period lead (again), Lucic and Horton looked to get back on track against a depleted Florida Panthers team; their line was on ice for two of those Penguin goals.
Playing a north-south game is key to this line's success, and it's something coach Claude Julien touched on at Thursday's morning skate: "Well, I think they've got to go back to their north-south game. I don't think there's a single team in the league that likes to see Lucic forechecking or going after a loose puck, same thing with Horton. When he's on his game, he's committed to it, he's another real physical player that can forecheck and put players on their heels. Those guys are better served when they play that way, and what that does is eventually backs guys off."
Julien stressed the importance of making opposing defensemen uncomfortable, which should help the line produce in the offensive zone. "When they back guys off then they're capable of making plays like they had been just inside the blue line. Right now, it doesn't seem to be the intention of putting pucks in areas where those guys can use that to their advantage. They're forcing plays a little too much in the neutral zone, which ends up being turnovers and not utilizing their strengths to their advantage."
Getting "too cute" could play into their recent woes at both ends of the ice, and is something you hope to see the line break away from in an effort to regain their north-south dominance.
Offensive production from these two players is crucial, as Patrice Bergeron, Tyler Seguin and Brad Marchand cannot be expected to carry the scoring load the rest of the season and into the playoffs.
The tandem got off to a great start on Thursday, netting the game's first goal just 3:53 into the first period. Zdeno Chara scored on a bomb of a slapshot above the left circle, beating Florida goaltender Scott Clemmensen stick-side high. David Krejci and Horton got the assists, but it was Lucic's board play that helped set up the goal.
Things weren't as pretty for this line the second period. On a power play chance, Lucic carried the puck through the neutral zone across the blueline, an effective entry, but an errant drop-pass to Dougie Hamilton led to a shorthanded chance for the Panthers.
Shawn Matthias made Lucic and the Bruins play, scoring his eighth goal of the season on an impressive shorthanded rush.
This was a prime example of Lucic breaking away from the things he does well, going for the drop-pass when he could of dumped the puck in deep for the safer play; instead, he gives it away to Matthias who nets the shorty.
While Krejci has been fairly consistent on both ends of the ice this season, Lucic and Horton have struggled defensively in recent games. On Thursday it was a similar story, as the trio gave up multiple chances to the Panthers due to poor breakouts and ineffective positioning. This line must improve their defensive play and overall physicality immediately, as it will help their production at the other end of the ice.
The Bruins, without their best effort, defeated a struggling Panthers team 4-1 at the Garden. Bergeron scored two goals leading the way for the Bruins, as that line continues to be one of the hottest in the entire NHL.
After the game, Julien spoke of the first line and their play in Thursday night's game: "Yeah a little bit better, I thought those guys skated a little bit better tonight so it was a step in the right direction. We know they're capable of doing more, but what we wanted to see was a step in the right direction."
Lucic and Horton will have another chance to improve their play soon, when the Bruins host an underperforming Washington Capitals team in a Saturday matinee.
FROM THE ROOM: 
Brian Campbell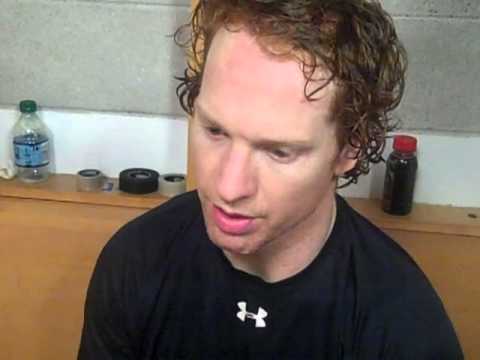 Get great deals on NHL Tickets here!