Brad Marchand has become a folk hero in Boston.
Given an abundance of nicknames throughout his tenure playing here ("Marshmont", "Honey Badger", "Squirrel") and whether he enjoys them or not, Marchand's "good brat-bad brat" on-ice antics have given Bruins fans plenty to discuss, and plenty to cheer about.
The gritty third-year winger exploded in last season's Stanley Cup playoffs, helping lead Boston to their sixth Stanley Cup Championship in franchise history.
His edgy play certainly helped make a name for himself around the league, but his ability to score goals, routinely coming in bunches, has helped the Bruins become the established top-tier club they now are, and earn two victories in this past week of play.
This week's rewind will focus on two games for the Bruins: against the Montreal Canadiens on Dec. 19, and the Florida Panthers on Dec. 23.
Being that it was shortened week of hockey, we will choose one MVP to go along with the "Goal Of The Week" and the "Fight Of The Week".
MVP
Brad Marchand
A beauty of a goal against heated rival Montreal, a hat trick and five-point performance against Florida one game later, what more needs to be said?
Marchand was not only the MVP for the NHL this past week, but he takes honors in this edition of my rewind as well.
The ability to get under the opponents skin is an underrated skill to have. Pair that with slick hands, a strong backhand, an even better wrist shot, and you have the undersized star-in-the-making, Brad Marchand.
One of the most valuable members of the club, the "honey badger" brings undeniable energy to every game the Bruins play, rubbing off on all of his teammates, most notably linemates Patrice Bergeron and Tyler Seguin.
Marchand showed glimpses of his Stanley Cup excellence this past week, as he played near perfect hockey in all three zones. He stirred up play in between whistles, found the back of the net with ease, using multiple facets of talent to produce exciting, entertaining play.
He is one of the most enjoyable players to watch on this Bruins club for a variety of reasons, something I expect to continue for the remainder of the season.
Goal Of The Week: Benoit Pouliot Dazzles Against Florida 
Watch as the newest Bruin continues to turn heads, scoring quite possibly the goal of the year for the Bruins! What an amazing up-ice rush by Pouliot!
Fight Of The Week: Shawn Thornton vs Krys Barch 
Surprisingly, the only fight in this past week of Bruins' hockey.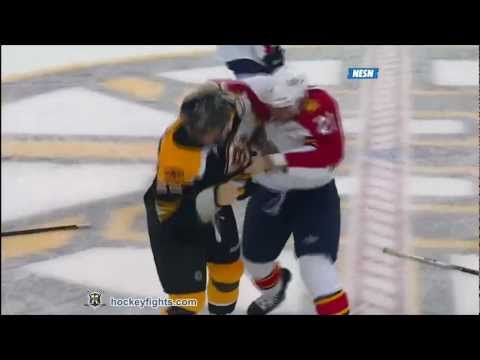 Courtesy of hockeyfights.com
The Bruins have been practicing out in Arizona, prepping for a Wednesday night "east versus west" showdown against the Phoenix Coyotes.