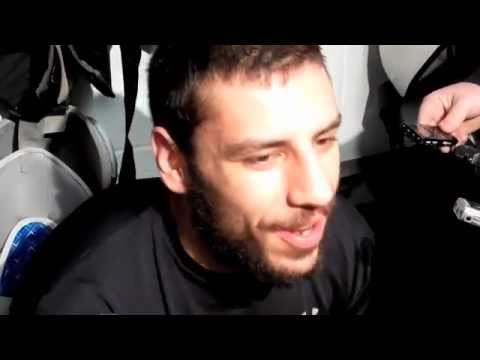 BOSTON – After another heartbreaking loss to the Canucks in Game 5, the Bruins hope to force a Game 7 in Vancouver when they take the ice for Game 6 tonight.
The Black and Gold hope to give their fans something to cheer about in the last home game of the season at TD Garden.
"They give us so much energy and you can feel it after each hit or quality shot, they let us know, and they are behind us," said forward David Krejci. "They give us so much energy and I expect the same thing tonight."
In their last two home games, the Bruins were able to feed off the energy from the Garden crowd and even the series at 2-2 by outscoring the Canucks in Games 3 and 4 by a 12-1 margin.
But that is in the past, and while the situation isn't ideal, they know the task in hand tonight.
"Games 3 and 4 don't matter right now," forward Shawn Thornton said. "Game 6 is Game 6. Tonight is a new night. "Just because we were good in Games 3 and 4 doesn't mean it's going to be easy tonight. It's going to be the toughest game by far."
"It's been a long run of ups and downs and crazy stuff," added defenseman Andrew Ference. "Obviously everybody can smell a finish coming up soon and wants us to continue the story for another game."
For the third straight season, each team has won all of their home games leading up to Game 6. However, the end result in each of the last two seasons came on the road with Pittsburgh hoisting the Cup in Detroit in Game 7 (after winning at home in Game 6 during an elimination game) and Chicago raising Lord's Stanley in Philadelphia in the sixth game after Patrick Kane's overtime winner.
Tonight, the Bruins hope to keep Lord's Stanley in its case for at least one more night.
"You want to do everything in your power to make sure that [forcing a Game 7] happens," Vancouver native Milan Lucic stated.
"We're looking at this as a great opportunity as our last home game and to win a big game in front of our fans. If we can focus on what we just need to do in our preparation and how we approach this game and how we start, then everything else tends to roll for us. We just have to make sure we do the right things to get ourselves prepared."
The Black and Gold will need everyone to give it their all tonight if they want to shift the series back to Vancouver.
"It's do or die right now," Michael Ryder said. "We have to make sure we just give it all we got. There are guys in here that can step it up and have a big game for us. And tonight I think we need everybody to do that and then after tonight, then we just have to worry about the next one after that."