Today marks the middle of July, and for hockey followers that typically means a snooze fest until October. Of course, there is training camp in September and a significant amount of us do have baseball to pass the time, but mid-July through until the start of the NHL regular season has to be two or three of the toughest months of the year. Considering that I'm one of those odd-ball types who prefers the cold weather… well… let's just say if I had that all powerful remote control that Adam Sandler "uses" in that movie Click, I would use it to fast forward to October.
At that point on the calendar, MLB's playoffs are beginning, the NFL is in full swing and, most importantly, the hockey season begins. OK, I may be biased, my birthday and my favorite holiday are also in October but for every sports enthusiast who ranks the four major sports with basketball on the bottom, the month of October has to be high on the list of favorite months out of the year.
But enough about me, none of you are here for my constant blabbing (although if you enjoy those type of blurbs, find me on facebook). The real reason you are here is for the discussion on the San Jose Sharks and how their 7-9 ranked forwards currently project for the upcoming season.
Now as noted many times before, it appears as if center Joe Pavelski—who spent much of last season on the third line—will return to a top-six position.  And when fellow center Michal Handzus (most recently with the Los Angeles Kings) signed a two-year $5 million dollar deal with San Jose on the opening night of free agency, it further cemented Pavelski's return to one of the top two lines.
Handzus, 34, will almost assuredly begin the season centering the third line and as of right now is clearly San Jose's seventh best forward on the roster. Last season that title went to Devin Setoguchi. While Setoguchi owns a much different style and played mostly on the top-line for the Sharks a year ago, an argument could be made that Handzus better fits the role of seventh best forward.
Considering his size, 6'4″ 218 pounds, faceoff ability, and two-way game (including penalty killing), certainly Handzus brings attributes the Sharks needed which Setoguchi does not. However, Handzus is past his prime years and the Sharks have certainly lost some offensive panache without Setoguchi in the mix.
In terms of finding another source to make up for that offensive void left by Setoguchi, the in house options don't jump off the page. Currently, Handzus' de facto wingers on the third line will be Jamie McGinn and Torrey Mitchell.
While both players bring some upside, neither is a lock for any real amount of offense.
Mitchell, 26, is the more established of the two players and has had quite the difficult career after popping onto the season during the 2007 training camp. A fourth round pick by the Sharks in 2004, Mitchell made the opening night roster for the 2007-08 campaign and proceeded to play in all 82 regular season games and all 13 playoff games that season. The Montreal native quickly became a fan favorite as he popped home 10 goals and 20 points as an energy creating center who hustled all over the rink, contributed on the penalty kill and scored the most fantastic short-handed breakaway goal of the season. Sharks fans remember it well, don't think they need my play-by-play of it but in case you haven't seen it, you can view it here: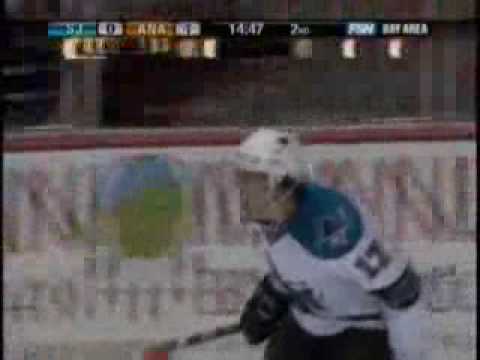 Unfortunately for Mitchell and the Sharks, those good vibes from the 2007-08 season came to a crashing halt—literally—when he lost his footing in a training camp scrimmage and broke his leg while crashing into the net.  Mitchell endured arguably the worst sophomore slump, missing the entire 2008-09 campaign with the injury. He returned to play four of San Jose's six playoff games that season but another injury setback postponed his regular season return to late November the following season. In 56 games during 2009-10, Mitchell only picked up 11 points and was no where near the same impact energy player that he was during his rookie season.
This last season finally saw a return to form for Mitchell (at-least in the offensive end as none of the Sharks' penalty killers were especially proud of their 24th league ranking) as despite only getting into 66 games during the regular season, he added 23 points. Projecting that to a full 82 game season and continued growth in his game, perhaps a 30 point season wouldn't be out of the question. Although on the same token, 15 of those 23 points came virtue of playing on Pavelski's wing.
Seeing as he may not have that luxury for most of the upcoming season, who knows if Mitchell ends up as a 15-20 point third liner or a 25-30 point performer, hard to predict what the Sharks will get from Mitchell this season. At 5'11" 190, he's not especially big but he's not especially adapt with the puck either. Relying on him to be a third line wing may not be the ideal fit.
McGinn on the other hand brings a different skill set but similar ups and downs in his early career. Like Mitchell, McGinn brings good speed but that's where the similarities end. At 6′ 1″ 205 pounds, McGinn is the more physical player known to be unafraid to throw his weight around. His best asset is probably his wrist shot, although limited NHL experience and playmaking skills don't lend to him getting into scoring areas frequently enough to be a main stay second or third line winger.
The now soon to be 23-year-old Ontario native played 35 games for the Sharks in 2008-09 as a 20-year-old rookie, picking up two goals and six points. It was the following year however that most outside followers recognized his potential. During that next season McGinn played in 59 games and scored 10 goals despite averaging just 9:59 in ice time per game. Naturally, the thought many of us had, including myself, was that if McGinn were to play a full season with an increased role, perhaps 12-15 minutes per game, and an increase level of play could mean a 15-20 goal season.
Didn't turn out that way… not even close. McGinn struggled in the first half last year, picking up just one goal and six points in 49 games before being sent back to San Jose's AHL affiliate in Worcester for the remainder of the regular season. Yet just when you think McGinn's NHL future may have hit a giant road block, he re-appears seemingly out of nowhere in the postseason. He played in two games against the Kings and two against the Red Wings before playing in three of the five Western Conference final games against the Canucks. All told as a fourth line player he picked up a lone assist and was even in the plus/minus department while making his physical presence known.
Even though McGinn did pick up two five minute majors in the postseason, neither call genuinely fit the crime and unlike Ben Eager's penalties, neither of McGinn's major penalties were mindless checks, they were both hockey plays with clean intentions that merely ended awkwardly. That said, where does that leave McGinn?
He could bounce back and have that year which many expected of him last season but after last season that is extremely positive thinking. A fourth line role for McGinn seems to be much better suited for him until he proves he can remain at the top level for a whole season.
Therefore at this point in time, the current third line on the depth chart doesn't have an identity that will cause many opponents to sweat. Of course with the cap room the Sharks have available, everyone around the team believes at least one third line caliber player is still to be added.
Only problem with that notion is who fits the bill? The UFA market is limited, mostly chalked full of older scorers in decline  and younger scorers whose inconsistencies and personalities don't necessarily fit the Sharks locker room.
Older veterans Cory Stillman, Sergei Samsonov, Vaclav Prospal and Alexei Kovalev don't fit for many different reasons and Nikolai Zherdev and Alexander Frolov are complete and total enigmas.
Perhaps Sharks GM Doug Wilson has been in talks with Flames free agent Brendan Morrison, arguably the best free agent still available. Last two years Morrison has posted 42 and 43 points and as the saying goes "you can never have too many centers." Morrison was also Calgary's third most used forward on the penalty kill last season and could be a solid addition.
Unless it's Morrison or long-time Predator J. P. Dumont signing on with the Sharks, best bets are the Sharks trading for third line help in some manner because it's hard to believe they are comfortable with the current McGinn-Handzus-Mitchell scenario.