Following a dominant performance by forward Ryan Potulny in the Bears win Saturday night, Hershey Bears forward Jeff Taffe starred in Hershey's 5-3 win over the East Division leading Syracuse Crunch Sunday night. Taffe contributed two goals and two assists as he's been a big time contributor to the Bears' lineup following his signing with the team this summer.
"I didn't think we had a lot of swagger early," Bears coach Mark French said. "We were able to get some later which maybe proves to a point that we've got some, which is good."
Bears goalie Philipp Grubauer (8-4-1) came on in relief of Dany Sabourin (8-8-3) who was pulled in the second period, and recorded 20 saves on 20 shots. Following the goalie change, Hershey would score four straight goals, including two goals in the second period on only four shots.
The Bears grabbed a 1-0 lead 6:53 into the game, as Jon DiSalvatore recorded his 15th goal of the year from in close. DiSalvatore received a pass from forward Jeff Taffe to the left of Syracuse goaltender Cedrick Desjardins and ripped it past him. With the win, Hershey improved to 28-21-3-5 on the season, and now have a winning record (14-13-3-2) at home.
The Crunch quickly tied the game only 1:54 later, converting on a rebound. Syracuse and former Hershey Bears forward Kyle Wilson potted his fifth goal on the season, following a shot on goal by forward Jean-Francois Jacques that lead to a rebound.
Syracuse padded their lead in the final minute of the first stanza, following Jeff Taffe's turnover. Crunch forward Tyler Johnson ripped his league leading 29th goal past Sabourin, with assists credited to forward Richard Panik and defenseman Mark Barberio.
The Bears controlled the pace of the first half in the first period, but the speed of the Crunch took over in the final ten minutes. Both teams earned a power play chance and Syracuse outshot Hershey 10-7 in the period.
Hershey tallied two goals in the second period to enter the third period tied at three. Following Crunch defenseman Evan Oberg's first goal of the season, the Bears' points leader took over. Forward Jeff Taffe would record two goals during even strength play, coming off great passes from defenseman Steve Oleksy and Mike Carman. With his two goals, Taffe entered the fifty point plateau making him the sixth player in the AHL to reach fifty points this season.
"He was really good," French said. "Two guys I want to highlight is Matt Pope and Mike Carman who stepped in tonight, they were able to step in and give us a lot of energy. I think Taffer elevated his play all weekend and tonight certainly came through when we needed him to."
"He obviously had two huge goals," defenseman Cameron Schilling said of Taffe's effort. "That definitely got our confidence going, I think there for a little bit we were sitting back and I think that kind of got us jumping back and I think it was a turning point in the game when we started scoring."
After Syracuse's goal, Hershey Bears head coach Mark French pulled Sabourin in favor of young net minder Philipp Grubauer, who earned the win in net against the Norfolk Admirals last night. Sabourin recorded 10 saves on 13 shots before getting pulled.
"I wasn't overly critical of the goals," said French of pulling Sabourin. "Just a sense that we needed something to change."
The Bears only registered four shots on goal in the stanza, not managing their first shot on goal until 9:02 into the second period. Hershey earned one power play in the period, but couldn't generate any offense.
Hershey tallied two goals in the third period, first on Cameron Schilling's sixth goal of the season that fluttered past Crunch goalie Cedrick Desjardins (11-15-2) and then on Casey Wellman's 11th goal of the season on a breakaway late in the final frame.
"Taffe made a great play drawing two guys in and I just called for a drop pass," said Schilling. "I thought I had a little more time than I did, I went to go shoot and I think [DiSalvatore] got it on that one. Just trying to put it on net."
"It looked like Schilling had joined the play and a nice play to get the puck back to him," French said. "I thought he hesitated maybe when he should have shot it a little bit earlier and then it kind of get caught into some legs. DiSalvatore was there and I initially thought it maybe went off of Jon, but then it looked by the replay it maybe went off their guy."
"It was a very nice weekend for Cameron; I thought Garrett Stafford had a very strong weekend as well. I thought the pair was really good. Cameron's a guy that needs to continue to improve for us and the organization and he played a real good three games for us this weekend."
Hershey hits the road next weekend for two road games against the Norfolk Admirals, followed by a Sunday contest at Giant Center against the Binghamton Senators.
Game Notes
1. Attendance: 10,586
2. Bears Injuries: Dmitry Orlov and Danick Paquette
3. Hershey Healthy Scratches: Evan Barlow, Matt Clackson, Mattias Sjogren and Jonathon Kalinski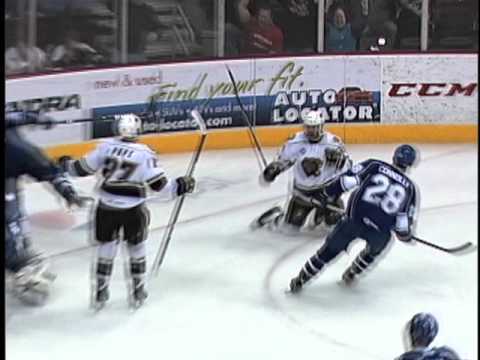 Three Stars
1. Jeff Taffe (two goals, two assists, plus five)
2. Cameron Schilling (one goal, one assist, plus two, one shot on goal)
3. Philipp Grubauer (20 saves on 20 shots)
You can follow Matthew on twitter @m_speck and email him at mspeck21@yahoo.com with any question or comments.