The NHL was at a crossroads in 1993-94. Gary Bettman was in his first full season as commissioner. ESPN was still in the early stages of bringing the game to the masses. And potential labor unrest awaited at season's end. But before men in suits took over the headlines in the summer, two vastly different teams — separated by just six miles of terrain and a body of water — stole the show in the spring. Indeed, the New York Rangers — built to win over the short term, and desperate to take their first Stanley Cup in 54 years — combined with the New Jersey Devils — upstart rebels built to change the game to conform to their defensive style and desperate to carve out an identity of their own — to create arguably the best series this sport has ever seen.
Across 13 days, the two teams played seven classic games, which featured 27 periods. Three games went into double overtime. One featured a guarantee. There were late heroics. There were suspensions. There was internal strife. There was enough drama to fill an entire postseason in just one series, and it truly defined one of the league's great rivalries, and changed the face of hockey in the New York metropolitan area forever. In "Battle on the Hudson: The Devils, the Rangers, and the NHL's Greatest Series Ever," by Tim Sullivan, the series, the states, and the stakes are given the kind of treatment befit of such a memorable time. The following is an excerpt from Chapter 9, The Guarantee:
"To know the person that (Mark Messier) is and how he conducts himself on a daily basis, it's not just The Guarantee, it was everything he said from the beginning of the season. He made us feel like every night was a guarantee. If we came to work hard, paid the price, took care of ourselves, then there would be many nights where we'd win. We believed him. We believed in how he believed in us. He was our leader. He was the guy we leaned on the most." — Nick Kypreos, New York Rangers forward (1993–96)
The pucks banged off the boards a little louder than usual in Rye, New York, on Tuesday, May 24, 1994. The skates, too, carved the ice with a little more animus than a regular Rangers practice at their Playland facility.
Maybe that's because there was no background noise to drown them out.
Indeed, things were eerily quiet as coach Mike Keenan put the Rangers through their paces that day. Suddenly facing elimination against an upstart rival from across the river, this team was in a hole not many thought they'd ever be in, first of all, and now that they were in it, many of those same critics gave them no shot at getting out.
The Presidents' Trophy, the No. 1 overall seed in the league, the Atlantic Division title, heck, even the six wins over New Jersey in the regular season — none of that mattered anymore. These Rangers were down 3–2 to the Devils, of all teams, and had one game, three periods, to save this magical, momentous season.
"That was a task in itself, obviously, but to win that Game 6 in Jersey only meant that they'd have to win another one," said analyst Al Morganti, who worked the series for ESPN and had a front-row seat to it all as the rinkside reporter. "And the way things were going, it didn't look good."
Morganti wasn't alone in his view. Everybody in that facility on that day — and most everyone in and around the series in general — could feel it.
The Rangers — a collection of high-priced superstars who waltzed through some 90 games with hardly a hiccup until New Jersey arrived on their playoff doorstep — were dying on the vine. And the dark, grey cloud that hovered over them for 54 years was back … and had never been bigger.
"They surely had some great teams in New York in the past," defenseman Kevin Lowe said, "but it was like Mark Messier said to me when I first became a Ranger: 'There are so many demons lurking in the Garden, you have no idea.' They're in every corner, and we had to slay each and every one of them before we could get it done. There were no shortcuts. It had to be done that way. It was a lot of pressure, playing in New York, and I understand now how difficult it was for past teams to not make it as far."
But this team was so much better than so many of those other shoulda, coulda, wouldas that ended up in the basement of the Garden, devoured deliciously by those aging demons. This team had it all. Or, at least, it did.
And it was Messier's job to get it back.
So, at the end of practice, in a glum locker room filled with media types anxious to write, broadcast, and deliver the 1994 Rangers' obituary, Messier took a stand.
"There might have been 15 people around him in a semicircle," said Mark Everson, the Rangers beat writer for the New York Post. "A few cameras. Everyone was waiting for him to come out and talk. It seemed normal enough. Another day in the series."
Until Messier started talking, of course.
"He came out," Everson said, "and I just asked him, 'Well, Mark, what has to happen here?'"
And ever so simply, in Messier's patented monotone, with a stone face and a sure delivery, he uttered the phrase that penetrated through the notebooks, the tape recorders, and the eyes and ears of the journalists in front of him:
"We'll win."
Short. Sweet. Succinct.
This wasn't the cocky, look-at-me proclamation offered by Joe Namath, author of the most famous guarantee in New York sports history. Messier simply said, "We'll win." Nothing more. Nothing less. And certainly nothing close to the former New York Jets quarterback and his guarantee of a Super Bowl III victory in 1969, one he ultimately made good on with a 16–7 win over the Baltimore Colts in Miami.
This was different. This was merely a captain trying to save his ship.
"My memory was, What else is he going to say? It wasn't like he called everyone over, stepped up on a box, and said, 'I have an announcement to make,'" said Larry Brooks, who was covering the Devils for the Post at the time but now covers the Rangers. "It wasn't that way at all. The Devils were the better team at that point, and with all the turmoil, guys getting benched, and things like that, Mess had to do something. So, he did."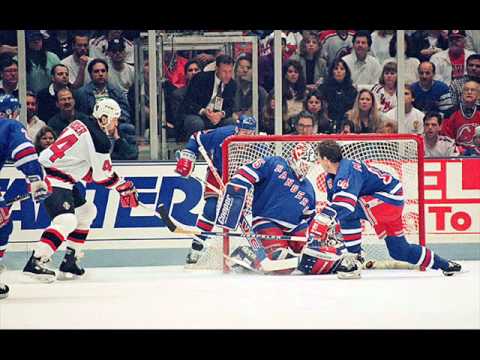 After just one point and three shots on net in the previous two games — both Rangers losses — Messier authored a promise, a pledge to his teammates, his coaches, and Rangers fans worldwide, that this team, starting with him, would not go gently into that good night.
"We know we are going to go in there," he said as he finally elaborated, "and win Game 6 and bring it back to the Garden."
For the veteran journalists in the room — Everson, Brooks, then–Post columnist Jay Greenberg, and others — it wasn't a "Stop the presses!" moment. At least not yet. There were other questions to be asked, and there was a process to run through. There weren't even a ton of glances between the assembled journalists, something that often happens in media scrums where a writer may flash a "Can you believe he just said that?" look at one of his brethren.
"It was a nothing-to-lose situation," said Stan Fischler, a legendary hockey author, historian, and television analyst who covered the series on the Devils' side for SportsChannel. "You were going back to Jersey, down 3–2, and he, who was always exuding confidence, had to say something. That's what made him such a leader in Edmonton and New York, that confidence. And to me, he was a better leader, the real guts of that Oilers team. It was Messier, not (Wayne) Gretzky. So, same thing here. He was the leader. He was the confident one. And he did what he felt he had to do as motivation."
The interview carried on to other matters of importance from that point on. The Devils, what they were doing, Martin Brodeur's prowess in net, the Rangers' injury situation, how was Messier going to get back on the scoreboard, things like that, as the reporters finished up and moved on to the next player.
But make no mistake: Messier knew what he had said and done. While he may not have been a mainstay in the New York media market, he was intelligent enough to know that his two little words were going to make waves in print and on the air. So, as he left the facility and prepared to ride back into Manhattan with Lowe, Brian Leetch, and Mike Richter, he turned to Lowe as they slowly walked through the parking lot. Messier figured that was the best time to let his longtime friend know what he might be up against over the next 24 hours.
"He looked at me, and there was a bit of concern on his face. It was one of those rare Messier moments," Lowe said with a laugh. "He turned to me, and said, 'Well, I think I may have just created a bit of a stir for tomorrow.' And I didn't know what he was talking about. Like I said, there was a look on his face that I didn't often see. So, I responded, 'Well, what did you say?' And he told me, 'Well, I kind of guaranteed that we'd win.' And we looked at each other for a second, one of those silent pauses … and then we both just chuckled. We got in the car, and I just said, 'Well, boys, we better get our hard hats on, and go out and do this. Mess has left us no choice.'"
Most of the Rangers shared in Lowe's nonchalant attitude toward Messier's words. Did the pledge raise the bar for this crew? Yes. Did it put more pressure on the team overall? Sure. But they had to win the game either way. So, to them, it was business as usual.
"It didn't really faze our preparation or anything," Leetch said. "We had no choice but to go out and play well no matter what he said, so that's how we treated it. We had to get on him a little bit. I remember seeing it in the paper the next day; I always used to grab the paper on my way to the skate. And when I saw him, I had to give a sarcastic smile. 'You really got us into it now,' I told him. 'Thanks a lot, Mess.'"
Across the river, though, it was a different story.
In East Rutherford, as the Devils were preparing to clinch their first berth in the Stanley Cup Finals, there were no smiles. Some players, when they first saw the morning papers, brushed it off. Others weren't so happy about it. Either way, there were no jokes to be made.
"I was kind of surprised, to be honest," forward Bill Guerin said. "All I can remember saying to myself, was, 'Is he serious? What's he thinking?' Well, he's wrong, and we had to show everyone that. But, can I say the guys were throwing the Post around the room and slamming doors? No. We just wished him luck."
If nothing else, it was a headache the Devils didn't need. Here they were, having won consecutive games by a combined 7–2 score and about to host an elimination game on home ice. And Messier had to mess with their mojo and bring New Jersey's inferiority complex back into the equation.
For the first time in this series, and for first time this season, the Devils should have been the story. They led the series. They were the better team. They were on their way to the Stanley Cup Finals.
But all anyone wanted to talk about was the Rangers.
"It was huge that morning," Brooks said. "Huge. At the Devils' skate, they were annoyed. People were asking (captain Scott) Stevens, I remember, about it, and it was an annoyance. 'We don't do that over here,' he said, or something to that effect. They were really annoyed.
"And you really got the sense that they were going to go out and play like it."
This excerpt from Battle on the Hudson: The Devils, the Rangers, and the NHL's Greatest Series Ever is printed with the permission of Triumph Books. Battle on the Hudson: The Devils, the Rangers, and the NHL's Greatest Series Ever by Tim Sullivan, was released on Oct. 1, and features an epilogue detailing the two teams' latest rematch in the 2012 Eastern Conference Finals, as well as a foreword by former Rangers wing Stephane Matteau. Battle on the Hudson is available now at Amazon and  Barnes & Noble. Please also follow Battle on the Hudson on Twitter @BattleHudson