Yes, it's been a dismal season overall, but in light of the bright spots—chiefly those many broken franchise records—I thought I might get the friendly debate going over who has been this team's 2011-12 Most Valuable Player.
Travis Morin is a candidate. His 12 goals and 52 assists place him eighth overall in AHL scoring, and those 52 assists place him tied for 3rd overall.
Rookie Matt Fraser's 36 goals currently lead the entire AHL.
But for me there is no hesitation. My vote goes to #7.
At 23 years old, Colton Sceviour is wrapping up his third season as a pro hockey player. As is well known, he was drafted in the fourth round of the 2007 entry draft, 112th overall, picked after 2nd rounder Nico Sacchetti and 3rd rounder Sergei Korostin, but before 5th rounders Austin Smith and Jamie Benn.
Of Sceviour's 21 goals after 70 games, only 6 of them had virtually no impact on the game. In other words, 15 of his 21 goals this season had a direct impact on the game. Either they:
tied the game (at the time)
gave the Stars a lead (at the time)
began a comeback when down at least 2 goals in games we would eventually win
won the game, including two OT winners.
Sceviour picked up five Power Play goals, one short-handed goal, and six game-winning goals. The six GWG lead the team, and give him 12 as a Texas Star—good enough for best all-time for the franchise. Should he pick up one more this season, he will tie Greg Rallo's record of 7 GWG in a season.
Put another way, Sceviour has 46 career goals as a pro hockey player, 12 of which are game-winners, good for over 25 percent.
In a season of near-constant change, Colton Sceviour centered the only line that remained consistent—the 'Swagger' line with Francis Wathier and Scott Glennie. This line was called upon in every occasion, and both Sceviour and Wathier enjoyed career years in points (as did Glennie, but he was a rookie). Meanwhile, he spent a paltry 23 minutes in the penalty box.
He has put 238 shots on net, 16 shy of Greg Rallo's team record of 254, and good for third overall in the AHL. During one five-game stretch in February, he took 34 shots, or almost 7 per game. With four games remaining, and averaging 3.4 shots per game, he's in sight of Rallo's record.
Coach Gulutzan had enough faith in him back in the 2010 Calder Cup Finals to put him on the top line with Jamie Benn and Aaron Gagnon, and I credit Sceviour with doing the dirty work necessary for the Stars to score in overtime of game 7 against the Chicago Wolves. Watch him aggressively forecheck Arturs Kulda and Patrice Cormier, and cause them to make the poor puck decisions that ultimately lead to the series clinching goal: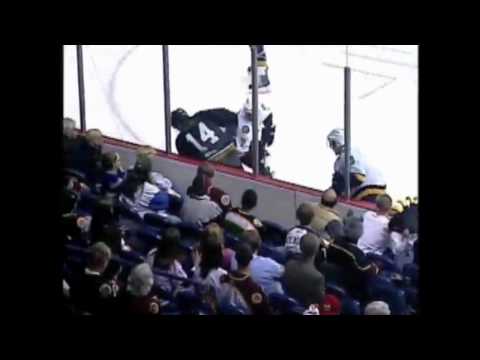 This is the kind of work Sceviour does night in and night out. He made his NHL debut last season, a single game against Philadelphia, but was never a call-up this season, which makes me wonder how the franchise regards him since he was overlooked for a call-up to Dallas Stars game 82 last night, unlike fellow Texas Stars Scott Glennie and Brenden Dillon.
Sceviour will be an RFA this summer. The Stars would be wise to re-sign him, but he would be just as wise to insist on a two-year contract, the first year being two-way and the second, one-way.