Skills Competition
The Syracuse Crunch have some of the AHL's fastest players in Tyler Johnson and Mark Barberio; both flew in the Skating Relay challenge.
Jason Zucker, who set the AHL record for the Fastest Skater challenge, only to be broken seconds later by Portland's Chris Summers, also impressed with his wheels. Zucker, who has always been known for his finishing touch, showed tremendous acceleration and balance while flying around the rink.
Robin Lehner (Binghamton Senators), who some call the best young goaltender in the world, was unbeatable in a majority of the skills competition. The 6-4, 213 pound (he looks like a monster on skates) goaltender appears to be NHL ready.
Lehner (16-5-1 with a 1.80 GAA thus far this season,) could potentially be traded due to the current success of Ottawa Senators goaltender Craig Anderson.
The Rapid Fire Shooting contest was less than impressive, but Trent Whitfield, in a cool moment, hit all four targets to seal the deal for the East; the Providence Bruins crowd went nuts for their captain.
The Western Conference defeated the East in the final event of the competition, the breakaway challenge. Eastern Conference shooters were stopped 14 times in a row, allowing the West to take the lead on the final shot of the night, a perfect finish.
All-Star Game
Zucker scored the pettiest goal of the first period, which was dominated by the Western Conference, who led 4-1 after one.
Nino Niederreiter (New York Islanders) hooked up with Rangers prospect Jonathan Audy-Marchessault for a nifty tri-state second period goal. The Eastern Conference battled back to cut the deficit to just one goal after two periods of play.
The East tied the game at six late in the third period on a Whitfield goal (much to the joy of the Providence Crowd), but the West won the game and the All-Star weekend on a last second goal by Toronto Marlies defensemen, and captain, Ryan Hamilton.
Hamilton earned MVP honors with his All-Star game hat trick, and was force to be reckoned with all weekend long; Along with Zucker, he was one of the most impressive players on the ice.
FROM THE ROOM: 
Niklas Svedberg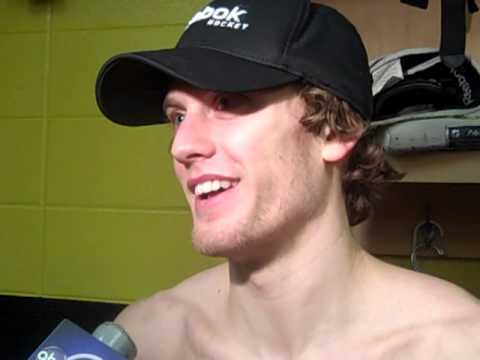 Trent Whitfield