Preseason… it's the time of year where you need to prove your worth to survive. Prove that you're better than the guy sitting in the stall next to you and when you get to the final preseason games before opening night, it's every player for himself. With players getting sent down to Providence almost daily, the competition is tight. Claude Julien repeated these sentiments during his post-game presser: "If you have a spot and want to be here, you've got to fight to keep it; if you want it you've got to earn it."
The Bruins faced off against the Senators in tonight's preseason contest. With a few favorites in Tyler Seguin, Shawn Thornton, Dennis Seidenberg and Johnny Boychuk missing from the lineup; it gave Adam McQuaid an opportunity to sport the ever important "A" on his sweater.
"He was a good candidate," asserted Julien. "A well respected, hard honest player, he's deserving of wearing it."
McQuaid, one of the resident tough guys, has been consistent in his play throughout the post season and into the preseason. Thus far his play has yet to falter, and you know what to expect from the 6'4" defensemen who shows up game in and game out striving to keep his spot on the roster.
"Obviously there's still room for improvement," said McQuaid. "But that's what the preseason's for. We have another game to make sure we're ready for when the season starts."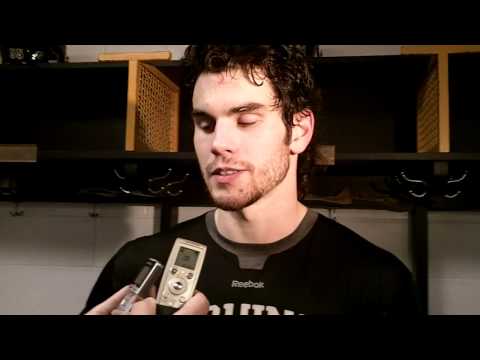 While not a sellout, fan support for the black and gold was at a high for a preseason game at the Garden. The cheers were near playoff levels as Milan Lucic lit the lamp with assists from Horton and Krejci halfway through the 1st period on a power play. Perhaps a little bit of redemption for taking a kneeing penalty only 17 seconds into the first period.
"We didn't have – and need to find – that killer instinct, that finish" Lucic said. "We've gotta do what we can to get ourselves ready."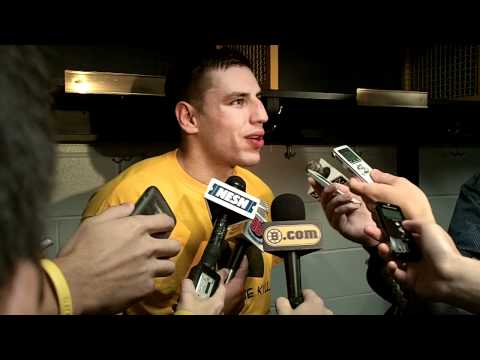 Fans may have been disappointed with the outcome; a 2-1 loss. But I'd expect they weren't upset with the game itself. With numerous breakaway opportunities and countless minutes spent in the offensive zone, the Bruins proved to be the better team by showing up to play for the entire 60 minutes. An effort that apparently brought nostalgia to the sea of black and gold jerseys; about 50 minutes into the game cheers of "we got the Cup" went round the Garden. A cheer that will be heard loud and clear on October 6th, as the Bruins host the Flyers for the opening of the 2011-12 season.
A few more videos from Tim Thomas and Brad Marchand: